Year 10 Student Achieves Straight A's and a Golden Palm
Our philosophy encompasses the idea that intelligence is not a determinative factor when it comes to a child's success at school.
At A Team Tuition, our tutors hold the mindset that success is achieved through the processes you follow and the importance you place on steps that need to be taken to pave the pathway to success. The Pye brothers are not unfamiliar with this process and both brothers have received significant rewards from tutoring in doing so.
For student Connor Pye, the youngest of the two, the hurdles blocking his road to success were learning how to implement the correct study strategies and minimising the stress he placed upon himself. Connor was matched with Academic Personal Trainer, Rhianna Lovegrove, who is not unfamiliar to seeing student success firsthand, especially within this family.
Rhianna was part of the support team that allowed Connor's older brother Tegan, to achieve an OP 1 equivalent and reach his ultimate goal of obtaining direct entry into medicine.  Connor has now followed suit, winning Dux Proximate Accessit (Runner Up) for his year level and obtaining a Golden Palm (straight A grades in all of his subjects)!
Connor was initially introduced to tutoring with A Team Tuition through his older brother. After a few sessions with Connor, Rhianna realised that it wasn't his content knowledge that was lacking, but rather the organisation-based strategies that he wasn't employing.
"Connor is a super intelligent young man and never really made any major mistakes in his work," Rhianna recalled. "It was more that he needed to learn the processes of planning, researching and organizing his thoughts, especially in English."
Rhianna immediately began working on structuring Connor's thoughts and writing. Through the implementation of a Neurobook, the pair began the process of tracking and simplifying Connor's thoughts and ideas so that they flowed. In particular, Rhianna noticed that Connor, like his brother Tegan, struggled with his vocabulary.
"I noticed that he, like his brother, used big words to make things sound good instead of being concise and to the point. I figured this out by getting him to show me his work and write his ideas down in the first couple of sessions."
Rhianna firstly focused on going through Connor's work one paragraph at a time to help summarise his class notes. Another key strategy that she used after realising Connor's dominant learning language was aural, was ditching paper and pen and using discussion to teach. Rhianna found that Connor responded well to having his ideas questioned, rather than directly told to him.
This method allowed Connor to further understand the process used to help him develop his own ideas.
When Connor first started tutoring, his only expectation was to obtain better grades and improve his academics. Not only did Connor achieve this, but he also learned how to manage his anxiety.
"The biggest difference in my life now that I have tutoring would probably be that I now have a sense of relief. I feel as if I know what I'm doing and how to do it."
This has in turn reduced Connor's hesitancy to begin tasks, which he notes as one of the biggest reasons why he wasn't fulfilling his potential as a student.
Connor's mum Tracy-Kim has noticed a significant shift in Connor's approach to his study as well. It only took a few weeks for the different strategies to have an effect and allow Connor to gain the confidence and surety in his approach he needed to excel in his studies.
"Connor is more relaxed and confident about his learning – he even handles "feedback" from teachers in a less personal and more productive way."
She mentions that this has resulted in a cumulative effect.
"Everything changed – grades improved, study methods improved, focus changed, and their engagement in their own outcomes shifted.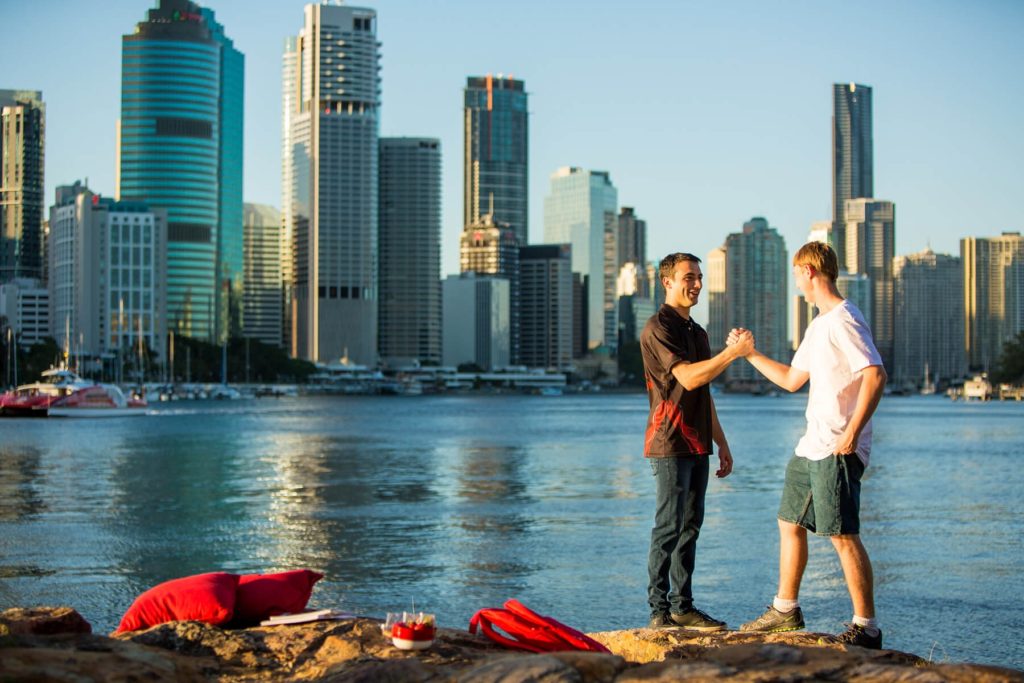 All of this wouldn't happen if it wasn't for the support network surrounding Connor that was allowing him to work to his best potential.  Teaching students to utilise their support networks is one A Team Tuition's key focuses here. This helps create an environment based around continual learning and exploration as the student builds a network around them full of individuals who will help that student invest in their best interests.
Whilst Connor learnt to trust the processes from Rhianna, she too learnt a lot from tutoring Connor.
"Connor and his family constantly serve as a reminder for me that there are some incredible upcoming minds that can truly change the world and that the power of a supporting family is honestly beyond words."
This sentiment is mirrored from Tracy-Kim, who mentions that the boys' tutors "have in many ways become part of our family and we value and enjoy their input."
This has helped Tracy-Kim whose main goal was to find continual support to match Connor's motivation.
"He was committed to being an "A" student and so my husband (his step father) and I wanted to support that aspiration."
Connor is equally proud of his achievements and it has helped him believe in his own capabilities.
"Tutoring has allowed me to soar in all aspects of school. A Team Tuition doesn't just focus on getting you that A. They also want to teach you how to study and how to get that A by yourself. Now, I feel that I have the skills necessary to thoroughly complete assignments and prepare for exams more independently."
Rhianna and Connor are currently focusing on not only maintaining his only grades, but successfully sitting Connor's SATs so that he can gain entry into Harvard University or follow in his brother's footsteps and study medicine.  Either way, we can't wait to see what the future holds for this dream team!