Online or In Home Tutoring
87% of our students achieve A/B Grades!
We have primary and secondary school tutors available for all subjects in all Sydney suburbs
We empower Sydney primary and high school students to reach their full potential. Our unique approach to private tutoring doesn't just teach the curriculum. We teach your child lifelong study skills that generate incredible results.
We work with child psychologists, education experts, and elite performance coaches to deliver tutoring strategies that develop "A-grade" learning skills. We then carefully select, train and support all our Sydney primary and high school tutors to create the optimal study strategy for your child and help them meet their goals.
Preferred and Only Tutoring Provider for The Kings School
We work with The King School, along with many other high performing schools in Australia, to provide education assistance and our Transformer Prep Program for boarding students.
how our sydney tutors achieve incredible results
We'll help your child change their approach to learning. We'll help them develop an "academic mindset" which means better school results, and a more motivated, enthusiastic child.
1. Develop confidence, motivation and improve their grades.
2. Learn the secrets of high performing students.
3. Work with a mentor on a program tailored to your child's personal learning style and academic goals.
Our Tutoring services in Sydney
In 2021, across 2,500 students we had a 23.1% increase in grade improvement. Meaning that on average, every student went up an entire letter grade.
95% of our students have a significant increase in
MOTIVATION TOWARDS STUDY AND SCHOOL
86% of our students have a significant increase in
CONFIDENCE TOWARDS SCHOOL
THE A TEAM TUITION DIFFERENCE
study smarter, not longer - Tutoring for your lifestyle
A Team Tuition is Sydney's fastest-growing tutoring company with over a decade of proven results tutoring in Australia. Our Sydney tutors tailor sessions to meet students' individual learning needs. We understand that your child is busy! You are too. So we help your child develop smarter study techniques - to achieve more without sacrificing their extra-curricular activities.
One-on-one private tutoring, in person or online, allows your child to create a connection with their Academic Personal Trainer. We believe that the right tutor can change your child's life, so we work very hard to find the right fit. We'll assess the way your child learns and interpret the curriculum to fit their learning needs.
This highly personalised tutoring approach has helped over 10,000 of our primary and secondary students elevate their grades in record time.
A TEAM TUITION HAS BEEN FEATURED ON
HOW TO HELP YOUR CHILD SUCCEED
The Secrets To Academics Revealed (STAR) Program
In order to transform your child's grades, confidence, and motivation, we focus on educating them on the three core pillars of success in school: Growth Mindset, Academic Support and Academic Strategy. It is when your child begins to understand and apply these three concepts alongside their Academic Personal Trainer, you will see your child's grades, confidence, and motivation transform.
The 'Secrets to Academic Revealed' (STAR) Program was carefully developed with child psychologists, teachers, university professors, and academics to deliver better academic results. The program is designed to work with your child to ensure that they understand exactly what they need to do to be successful. It is both theoretical and practical, and the nine modules allow students to learn the skills of an 'A' student while completing their own class work.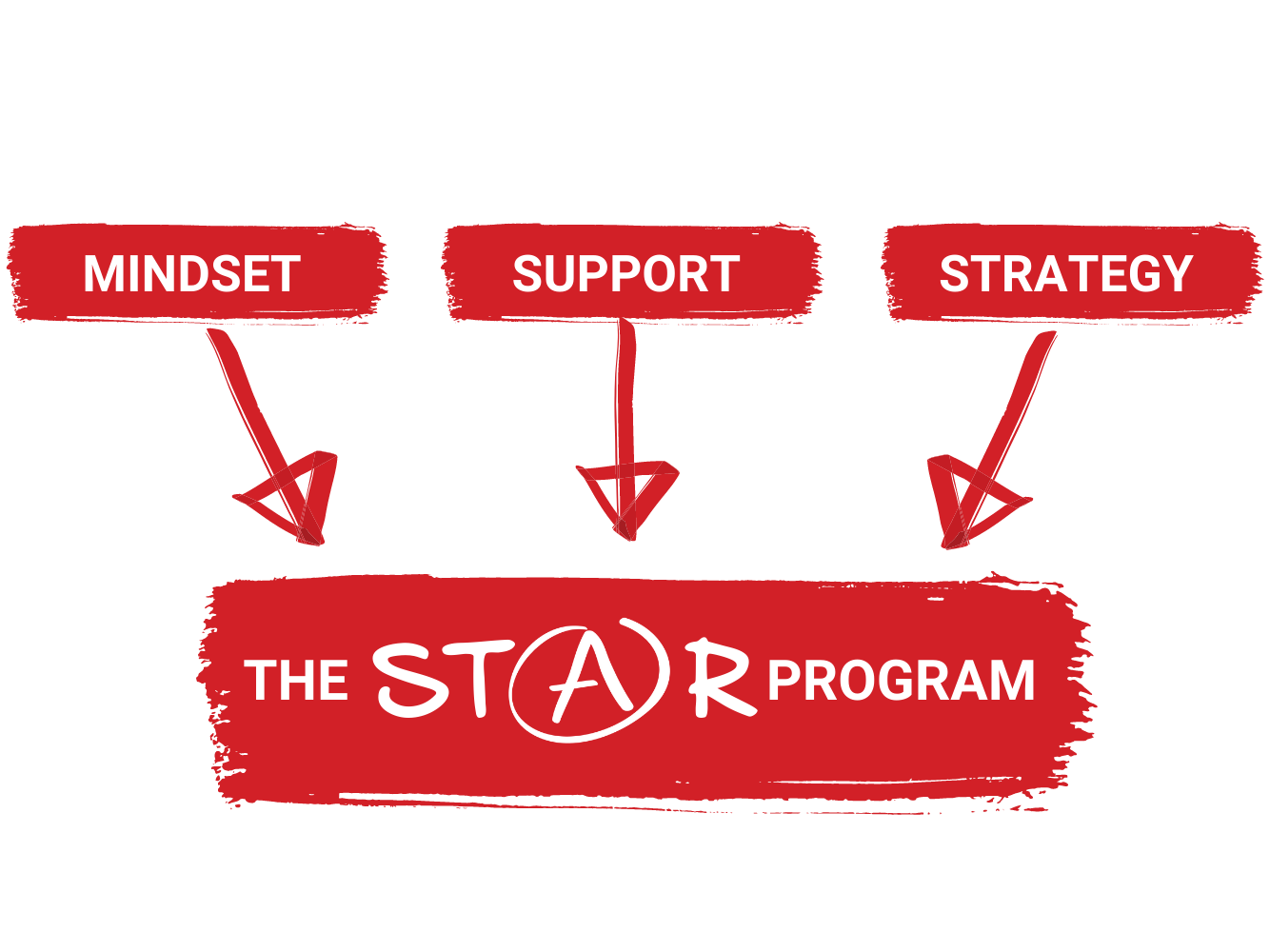 ... What Our Clients Have To Say ...
Hayley has been having wonderful sessions with her tutor Mia and she is extremely happy to have her as her tutor. Haley has been very positive and very motivated and definitely feels lucky to have found Mia to help her!
Kasie – Year 12 Mum
Alongside greatly encouraging improvement in his academic results, the most outstanding and important outcome has been enhancement of his self-motivation and drive, and even more importantly, development of his self-confidence.
Sharon – Mother
"Sebastian has been brilliant for Finlay and helped him complete Grade 6 in a much better place than he otherwise would have been. His handwriting has improved enormously and we loved the way Sebastian got to know him and kept him engaged through their time together. Learning was a lot of fun, We're so happy we found you guys."
Victoria – Year 6 Mum
"Caelan came out of the session and said he had so much fun! I couldn't believe my ears that anyone would ever say they had fun doing maths tutoring. He's already finished all the homework Josh set for him and can't wait for next week."
Jodie – Year 6 Mum
My daughter Maddie was really impressed with her first session with her tutor, Derek. She said Derek was excellent and there was just no comparison with her last tutor. He is a lovely young man and completely put Maddie at ease. Her mood totally changed between the time before the tutorial to after. Thank you so much, and I can't wait to see what they accomplish.
Kylie – Year 10 Mum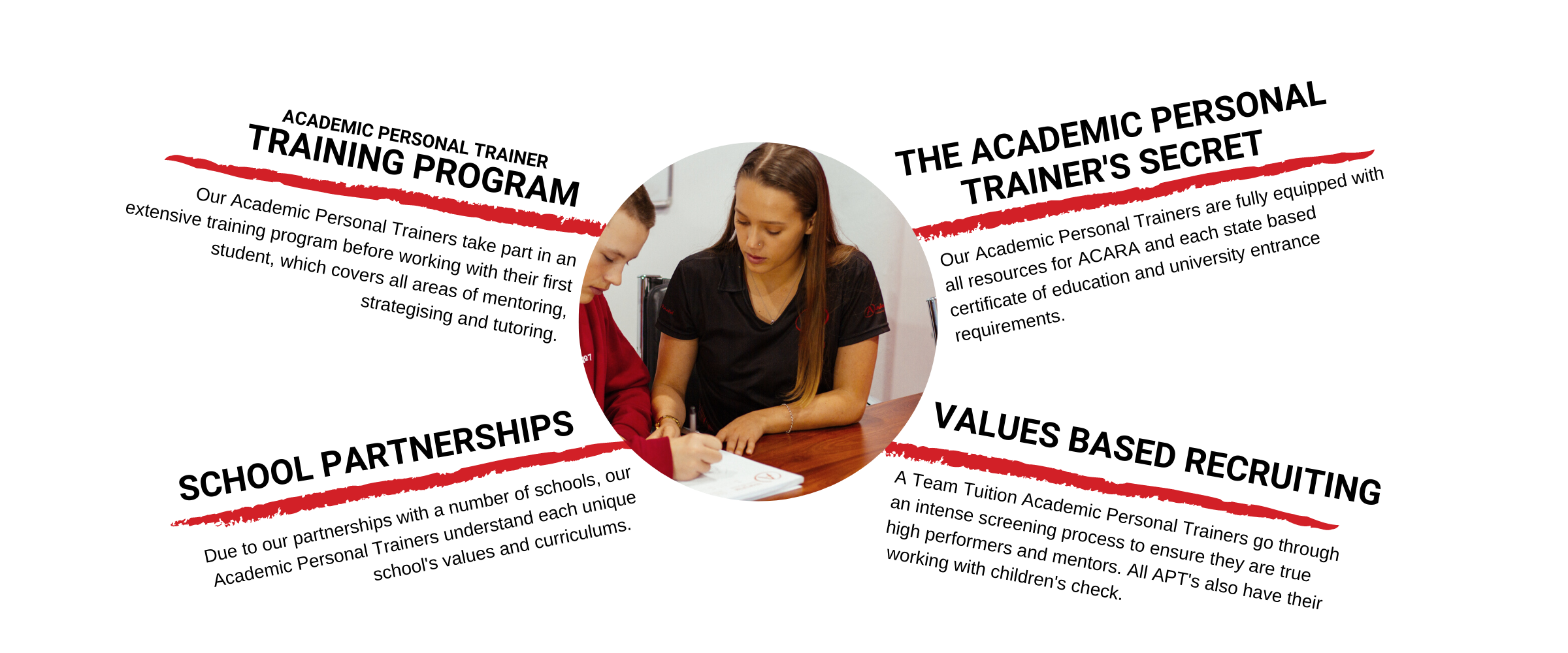 Why We Refer to Our Sydney Tutors as Academic Personal Trainers
At A Team Tuition, we refer to our tutors as Academic Personal Trainers. Why? Because we don't just teach the Australian Curriculum but work to improve your child's mindset, support, and strategy.