Real Results With In-Home and Online Tutoring in Sydney
We empower Sydney primary and high school students to reach their full potential. Our unique approach to private tutoring in Sydney doesn't just teach the curriculum. We teach your child lifelong study skills that generate incredible results.
We see real results here at A Team Tuition with 87% of our students achieving A/B grades after working with our tutors.
We carefully select, train and support all our Sydney primary and high school tutors to create the optimal study strategy for your child and help them meet their goals.
Preferred and Only Tutoring Provider for The Kings School
We work with The King School, along with many other high performing schools in Australia, to provide one to one tutoring assistance, and our Transformer Prep Program for boarding students. 
SYDNEY STUDENT TRANSFORMATIONS
87% of our students achieve A/B grades!
95%  of our students saw an increase in motivation in school.
86% of our students saw an increase in confidence in school.
MEET SOME OF OUR TUTORS IN SYDNEY!
We have a rigorous procedure designed to find and hire only the very best in qualified tutors. A Team Tuition tutors are employed by us after passing a rigorous 4-stage recruitment process and 2-day training program, along with being WWC and Police checked.
Specialises in all levels of English, Geography, and History.
"Hi, my name is Anthony. I have been with A Team Tuition since 2020, and have a passion for helping students."
Biology, Science, and Maths Tutor for Primary and High School.
"Hello! My name is Elli! I am very invested in all of my students ensuring that they achieve their goals in and out of school."
Specialises in Biology, Chemistry, and all levels of Maths.
"Hi! I'm Emily. I understand that everyone learns differently, so I personalise the session for each of my students."
Specialises in all levels of Maths Tutoring.
"Hello, I'm Christian. One of the most rewarding feelings is helping students understand concepts so that they can utilise them in school, and life."
Specialises in Business, Maths, Geography, and English Tutoring.
"Hi, my name is Madelyn!  I have a passion and love for learning, and find that teaching others is a highly rewarding role."
What You Can Expect as a Parent
Consistent Weekly Sessions
Confidence and Effort Tracking
Consistent weekly sessions, at days and times that suit your family, and a full support system for both you and your child with your own Client Support Manager who you can contact anytime.
You will also receive session summaries that recap what your child accomplished during their session AND how your child is progressing with their goals, their confidence, and their motivation levels.
OUR TUTORING SERVICES IN SYDNEY
Our team of Sydney tutors work across primary and high school subjects.  We create a custom tutoring strategy for your child, from a single subject to intensive, multi-subject, ATAR and HSC preparation.
Primary School Subjects We Tutor in Sydney
High School Subjects We Tutor in Sydney
What Our Sydney Clients Have To Say
"Everyone comments on her confidence."
"Cecelia has never passed English before so we're really celebrating this C.  The teacher said that she's on course for a B this term and everyone, her teacher, her teacher's aide and her reading group leader – they've all said she's far more confident, putting her opinion out there, and finally feeling brave enough to read out loud.  This has been a big celebration in our house."
Lizzy Edwards, Mother to Cecelia, Aged 11
Alongside greatly encouraging improvement in his academic results, the most outstanding and important outcome has been enhancement of his self-motivation and drive, and even more importantly, development of his self-confidence.
Sharon – Mother
"We absolutely love our tutor Maina. He is such a wonderful person to have in the home and Joe enjoys working with him. Even my other son who isn't loving school said he might do some tutoring with him. Impressive!!"
Kelly — Year 12 Mum
"I initially engaged with A Team only a couple of weeks before Matthew's exams as he was struggling with some key concepts in his hardest subject and despite being a high achiever this was really impacting not just on his marks and confidence but on him as a person.
Teliah was assigned to Matthew and in two short weeks he went from a C to a B+ in the hardest strain of mathematics, but also regained his confidence. The change in him is remarkable, he is now more focused on assignments, will get an awesome ATAR result and is working the hardest he ever has.
I am sure there are cheaper options that A Team, but to me this is one of the best investments I have ever made and has changed Matthew's outlook, options and no doubt future academic and professional life.
I can't recommend A Team enough, and having spoken to other parents can safely say that our result is the normal outcome as opposed to an outlier."
Damien — Year 11 Dad
I share my deep gratitude to your team. Our son Hudson is flourishing! His step is lighter, he laughs, and his confidence within himself is growing. This is all because of Mitch! Mitch has built a safe learning  relationship and Hudson is thriving! Thank you!
Hudson thinks Mitch is a Legend! We are so grateful to Mitch, your team and so happy for Hudson.
Kellie – Year 8 Mum
Our Tutoring Strategy in Sydney
One-to-one tutoring in Sydney at home, online, and in school! Our scientifically tested and proven tutoring model, STAR (Secrets to Academics Revealed) Program, has been developed with child psychologists, teachers, university professors, and the Australian Boarding Schools Association (ABSA) to deliver improved academic results!
A Team Tuition's tutoring program works with your child to ensure that they understand exactly what they need to do to achieve their desired outcomes.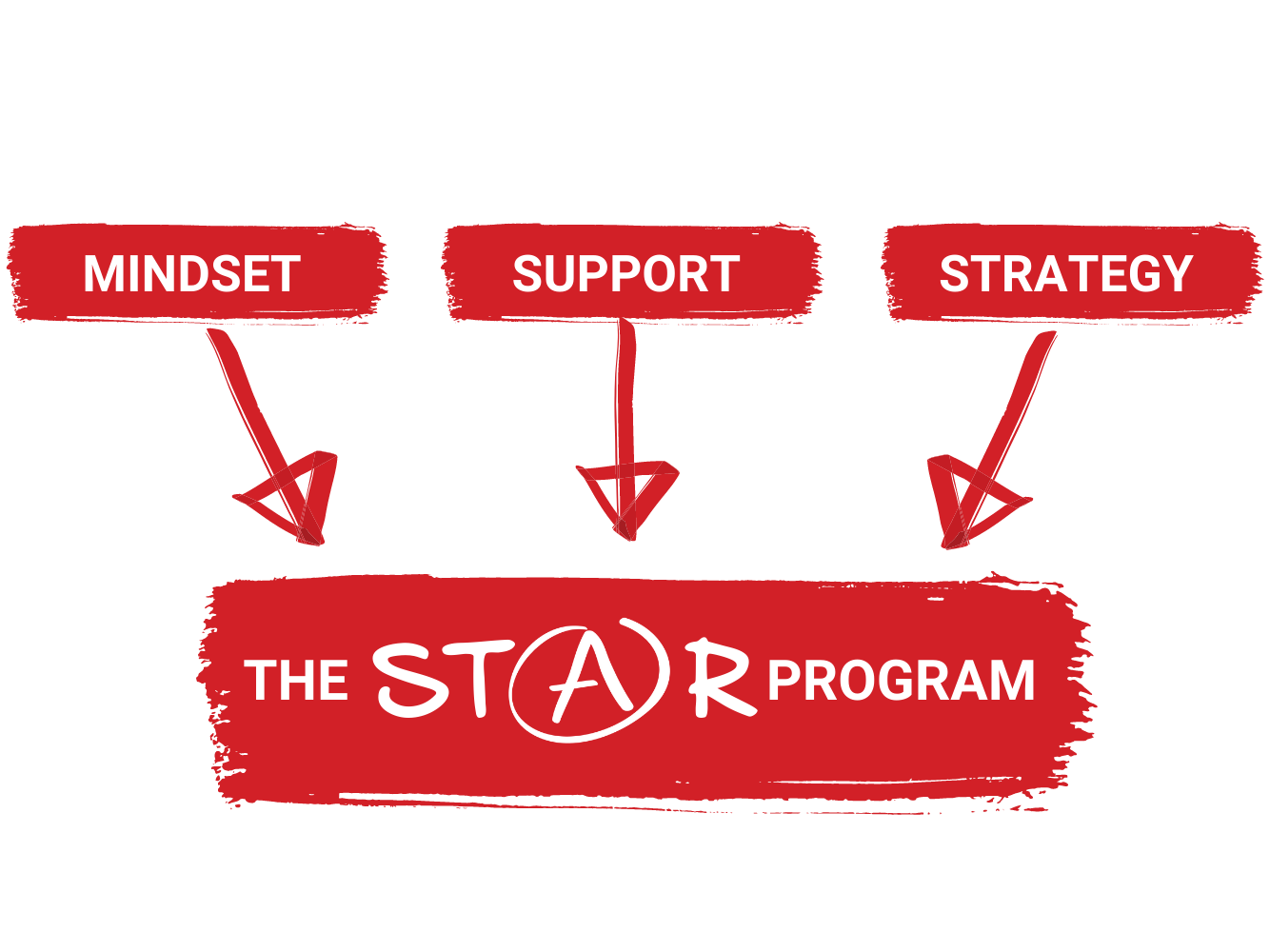 In 2021, across 2,500 students, we had a 23.1% increase in grade improvement. This means that on average, every student went up an entire letter grade.
We have tutors located in almost every Sydney suburb. This includes (but is not limited to) home-tutoring in Parrarmatta, Surry Hills, Randwick, Campbelltown, Liverpool, Chatswood, Eastwood, Kellyville, Blacktown, Seven Hills, North Sydney, and Burwood.
Yes! Primary school tutoring is one of the core services within A Team Tuition. Our goal is to understand, appreciate, and strengthen your primary school student, to provide a solid foundational basis for their educational journey ahead.
Yes! Our high school tutors in Sydney will work with your child to develop a plan for success, and develop their strategies, confidence and motivation towards school. 
All of our Sydney tutors are upskilled to support students with learning difficulties including ADHD, ASD, ODD, dyspraxia, dyslexia, and dyscalculia.