Real Results With In-Home and Online Tutoring in Toowoomba
Our Toowoomba tutors have been supercharging grades for over a decade! But how? We don't just tutor the curriculum, we teach lifelong learning skills by building your child's mindset, offering support, and developing strategies that work for your child's specific needs. We see real results here at A Team Tuition with 87% of our students achieving A/B grades after working with our tutors.
At A Team Tuition, we refer to our tutors as Academic Personal Trainers. We don't just support and teach the Australian Curriculum; we work to improve your child's mindset, support, and study and assessment strategies. Find a tutor that helps your child learn, not just study.
A Team Tuition offers primary and secondary school tutoring in Toowoomba and has tutors available in all subject areas
MEET SOME OF OUR TUTORS IN TOOWOOMBA!
We have a rigorous procedure designed to find and hire only the very best in qualified tutors. A Team Tuition tutors are employed by us after passing a rigorous 4-stage recruitment process and 2-day training program, along with being WWC and Police checked.
TOOWOOMBA STUDENT TRANSFORMATIONS
What You Can Expect as a Parent
Consistent Weekly Sessions
Confidence and Effort Tracking
Consistent weekly sessions, at days and times that suit your family, and a full support system for both you and your child with your own Client Support Manager who you can contact anytime.
You will also receive session summaries that recap what your child accomplished during their session AND how your child is progressing with their goals, their confidence, and their motivation levels.
Primary School Subjects We Tutor in Toowoomba
High School Subjects We Tutor in Toowoomba
... What Our Toowoomba Clients Have To Say ...
"In respect of Teliah, she has been fabulous.  Matthew got his marks and went to a B+ in a subject he had been failing, and his other subject was an A which had been a B that they had been working on.
Teliah herself has been professional, a good communicator, has provided timely feedback and has been on time herself in every event – well presented and once she did the first session well researched in the work she has been attending too with Matty.
She has definitely been a credit to your organisation and has justified the marketing that A Team Tuition has in respect of improvement."
Damien – Year 11 Dad
The word "Proud" doesn't even come close to expressing how we felt last night at our daughter's Awards Ceremony. The studying structure and skills she has developed since starting with the program has been invaluable.
Collette – Mother
"I initially engaged with A Team only a couple of weeks before Matthew's exams as he was struggling with some key concepts in his hardest subject and despite being a high achiever this was really impacting not just on his marks and confidence but on him as a person.
Teliah was assigned to Matthew and in two short weeks he went from a C to a B+ in the hardest strain of mathematics, but also regained his confidence. The change in him is remarkable, he is now more focused on assignments, will get an awesome ATAR result and is working the hardest he ever has.
I am sure there are cheaper options that A Team, but to me this is one of the best investments I have ever made and has changed Matthew's outlook, options and no doubt future academic and professional life.
I can't recommend A Team enough, and having spoken to other parents can safely say that our result is the normal outcome as opposed to an outlier."
Damien — Year 11 Dad
Hayley has been having wonderful sessions with her tutor Mia and she is extremely happy to have her as her tutor. Haley has been very positive and very motivated and definitely feels lucky to have found Mia to help her!
Kasie – Year 12 Mum
"Our tutors, Jake and Bodi are very well matched to both of our boys. My sons were so happy that all of their goal setting was done in the first session and I am really looking forward to seeing how the boys respond throughout the term!"
Terry – Father (after the first session)
87% of our students achieve A/B grades!
95%  of our students saw an increase in motivation in school.
86% of our students saw an increase in confidence in school.
Our Tutoring Strategy in Toowoomba
One-to-one tutoring in Toowoomba at home, online, and in school!
Our scientifically tested and proven tutoring model, STAR (Secrets to Academics Revealed) Program, has been developed with child psychologists, teachers, university professors, and the Australian Boarding Schools Association (ABSA) to deliver improved academic results!
A Team Tuition's tutoring program works with your child to ensure that they understand exactly what they need to do to achieve their desired outcomes.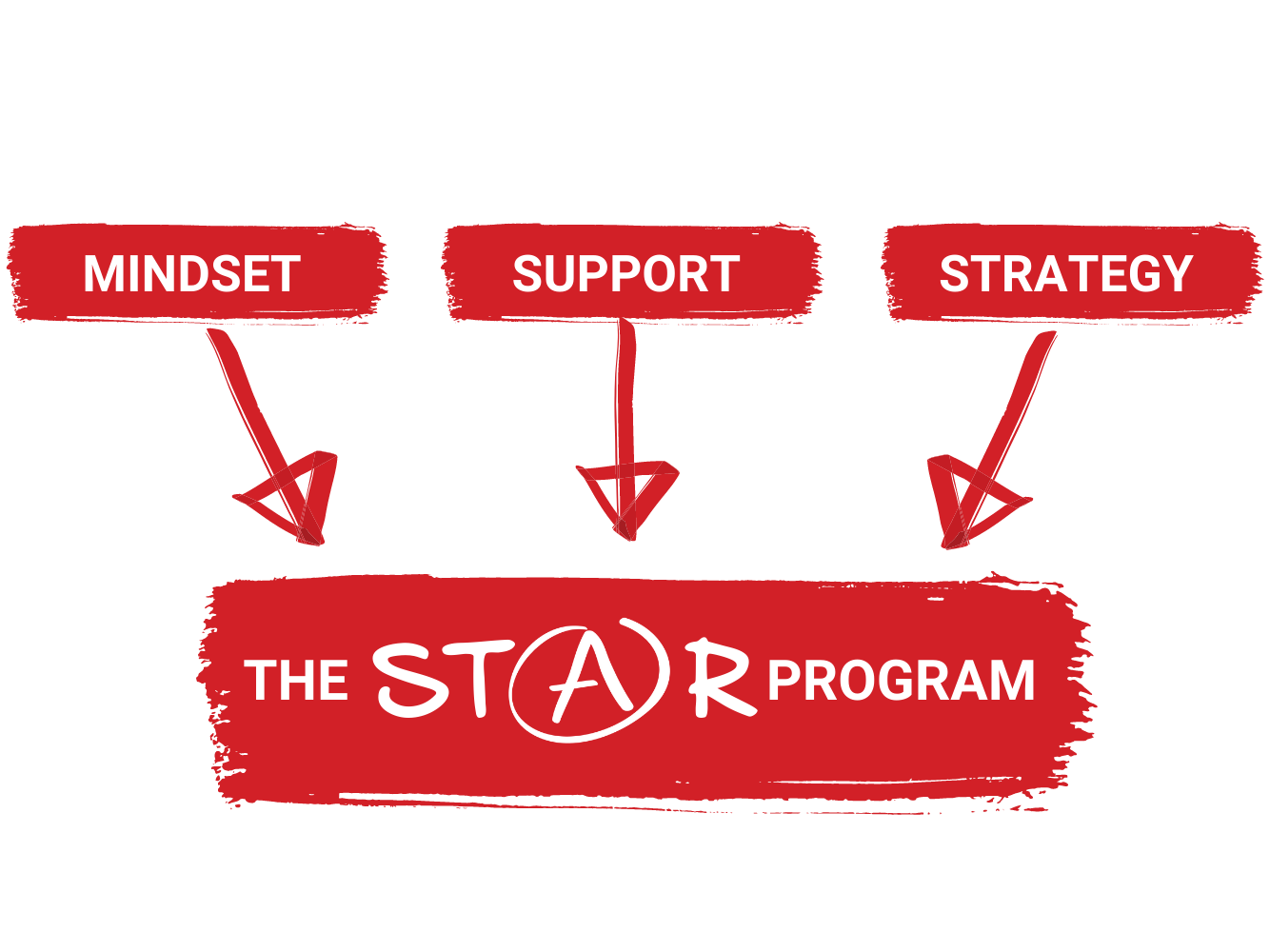 In 2021, across 2,500 students, we had a 23.1% increase in grade improvement. This means that on average, every student went up an entire letter grade.
We have tutors located in almost every part of Toowoomba. This includes Highfeilds, Kearneys Spring, Westbrook, Glenvale, Darling Heights, and South Toowoomba.
Yes! Primary school tutoring is one of the core services within A Team Tuition. Our goal is to understand, appreciate, and strengthen your primary school student, to provide a solid foundational basis for their educational journey ahead.
Yes! Our high school tutors in Toowoomba will work with your child to develop a plan for success, and develop their strategies, confidence and motivation towards school. 
All of our Toowoomba tutors are upskilled to support students with learning difficulties including ADHD, ASD, ODD, dyspraxia, dyslexia, and dyscalculia.