87% of our students achieve A/B Grades!
A Team Tuition Ipswich tutors empower your child to reach their full learning potential. Our approach to private tutoring focuses on lifelong study skills, not just the curriculum. And the results? For over a decade, we've achieved unparalleled results with students across Australia.
Our tutors deliver to your child our exclusive approach to learning. Developed with child psychologists, education experts, and elite performance coaches, our program focuses on overcoming barriers to learning, making it easier for kids to understand and thrive. We carefully select, train and support all our Ipswich primary and high school tutors to deliver superior tutoring services, and excellent results.
Help your child meet their full potential!
Our Tutoring services in ipswich
After more than a decade of tutoring across Australia, our team is now working with Ipswich primary school and high school students. We'll match your student to the right tutor, to ensure optimal results and motivation. We offer one-on-one private tutoring, both in-person and online in Ipswich, Queensland.
Primary School Tutoring | High School Tutoring | Online Tutoring | Boarding School Tutoring | Home School Tutoring | School Holiday Catch Up Tutoring | ATAR Intensive Tutoring
Our team of Ipswich tutors work across primary and high school subjects. We create a custom tutoring strategy for your child, from a single subject to intensive, multisubject QCE and ATAR preparation.
Primary School Subjects We Tutor:
Primary School Maths | Primary School English | HASS | Primary School Science
High School Subjects We Tutor:
Mathematics (All Grades and Levels) | English (All Grades and Levels) | History | Geography | Legal Studies | Biology | Chemistry | Physics | Physical Education | Accounting | Business | Economics | Consumer and Financial Literacy | Media Arts and Design Technology | Music Theory | Speech and Drama | Visual Arts
Child-centred approach to tutoring in ipswich
We'll help your child change their approach to learning. We'll help them develop an "academic mindset" which means better school results, and a more motivated, enthusiastic child. We develop our tutors to be more like personal academic trainers, rather than simple tutoring professionals.
1. Develop confidence, motivation and improve their grades.
2. Learn the secrets of high performing students and help them to adapt their study habits.
3. Work with a mentor on a program tailored to your child's personal learning style and academic goals.
In 2021, across 2,500 students we had a 23.1% increase in grade improvement. Meaning that on average, every student went up an entire letter grade.
95% of our students have a significant increase in
MOTIVATION TOWARDS STUDY AND SCHOOL
86% of our students have a significant increase in
CONFIDENCE TOWARDS SCHOOL
study smarter, not longer - Why busy families choose a team tutors
We've been developing our approach to tutoring for over a decade. We've learned how to optimise a child's learning. Our Ipswich families have shared their struggles to find the right tutoring options near them. We're proud to offer a new approach that better fits their child's needs, and lifestyle.
We understand that life is busy. We help your child to "learn smarter"
Focus on smarter study habits, not longer ones.
We optimise your child's intake of information by teaching in their preferred "learning language"
At home, or online tutoring sessions so you don't need to taxi them anywhere!
One-on-one, child-centric private tutoring, to get more achieved, faster
Flexibility around extra-curricular activities and day to day commitments
Understanding. Families are all different. We work to fit in with yours.
School support. We will help build your child's learning network, liaise with their teachers and co-ordinate their academic transformation journey - so you don't have to.
This approach has helped over 10,000 of our primary and secondary students elevate their grades in record time. The homework and study struggles end here.
A TEAM TUITION HAS BEEN FEATURED ON
HOW TO HELP YOUR CHILD SUCCEED
The Secrets To Academics Revealed (STAR) Program
In order to transform your child's grades, confidence, and motivation, we focus on educating them on the three core pillars of success in school: Growth Mindset, Academic Support and Academic Strategy. It is when your child begins to understand and apply these three concepts alongside their Academic Personal Trainer, you will see your child's grades, confidence, and motivation transform.
The 'Secrets to Academic Revealed' (STAR) Program was carefully developed with child psychologists, teachers, university professors, and academics to deliver better academic results. The program is designed to work with your child to ensure that they understand exactly what they need to do to be successful. It is both theoretical and practical, and the nine modules allow students to learn the skills of an 'A' student while completing their own class work.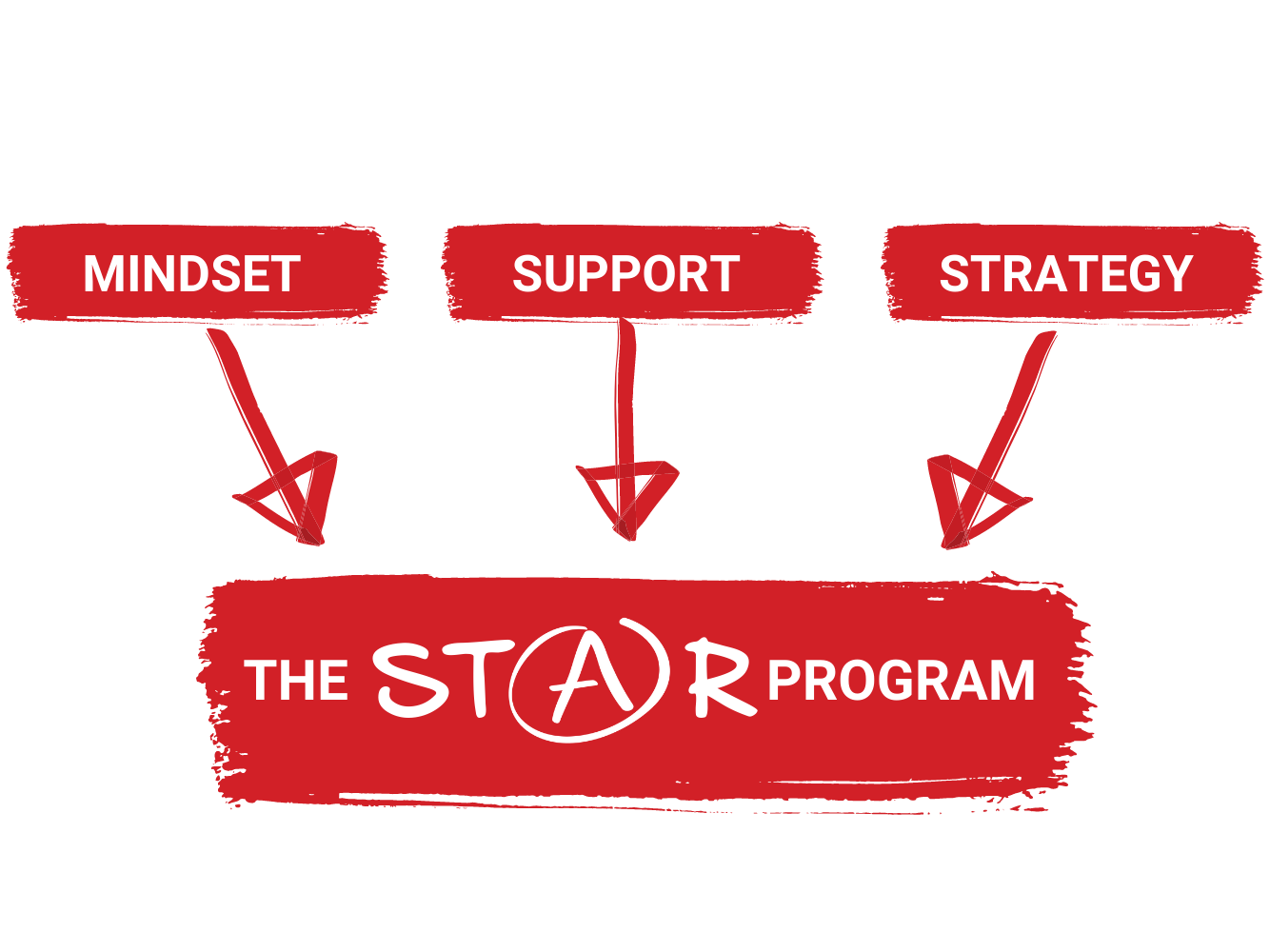 ... What Our Clients Have To Say ...
"Leyla and Coco have been working hard together on reading/recognition and spelling and the NAPLAN results show it!! With Coco being above the national average!!
Alicia – Year 3 Mum
Before Belle's first tutoring session she was a little anxious and kept asking me "what will I ask her?"…."what will she do?". After their first session, Belle is upbeat, positive, calmer and feels Jessica is a perfect match for her saying, "she's just like me". Thank you so much for making the effort to match tutors based on personalities; it makes all the difference.
Tracey – Year 11 Mum
"I am very happy with how the sessions are going. Avalon was sitting on a D to C and just received a B- in Math! Her teacher marked improvement with both maths and confidence. Our tutor, Andrew, takes the time to discuss and draw out of Avalon what she understands and also struggles with. He is very patient and takes time to repeat things. She loves how he gets her to repeat back what he is teaching her to ensure she understands, as she normally is too shy to say. He has great communication skills and he somehow gets through to her as she is difficult to read. All round a lovely young man."
Caitlin – Year 10 Mum
Their unique approach to helping students feel confident in their preparation for exams, assessments and increasing their literacy and numeracy skills, sets them up for success, no matter their hesitations. It is so important, especially within this generation, to find ways to keep students engaged in the learning process.
Lucy – Senior School Teacher
"We needed to know how to turn that lightswitch on and I don't know how to. We tried everything, but nothing worked. Then A Team came along, and all of a sudden, the light switch turned on."
Kirsty's child went from a D to A+ in maths in just 10 weeks!
Kirsy – Year 10 Mum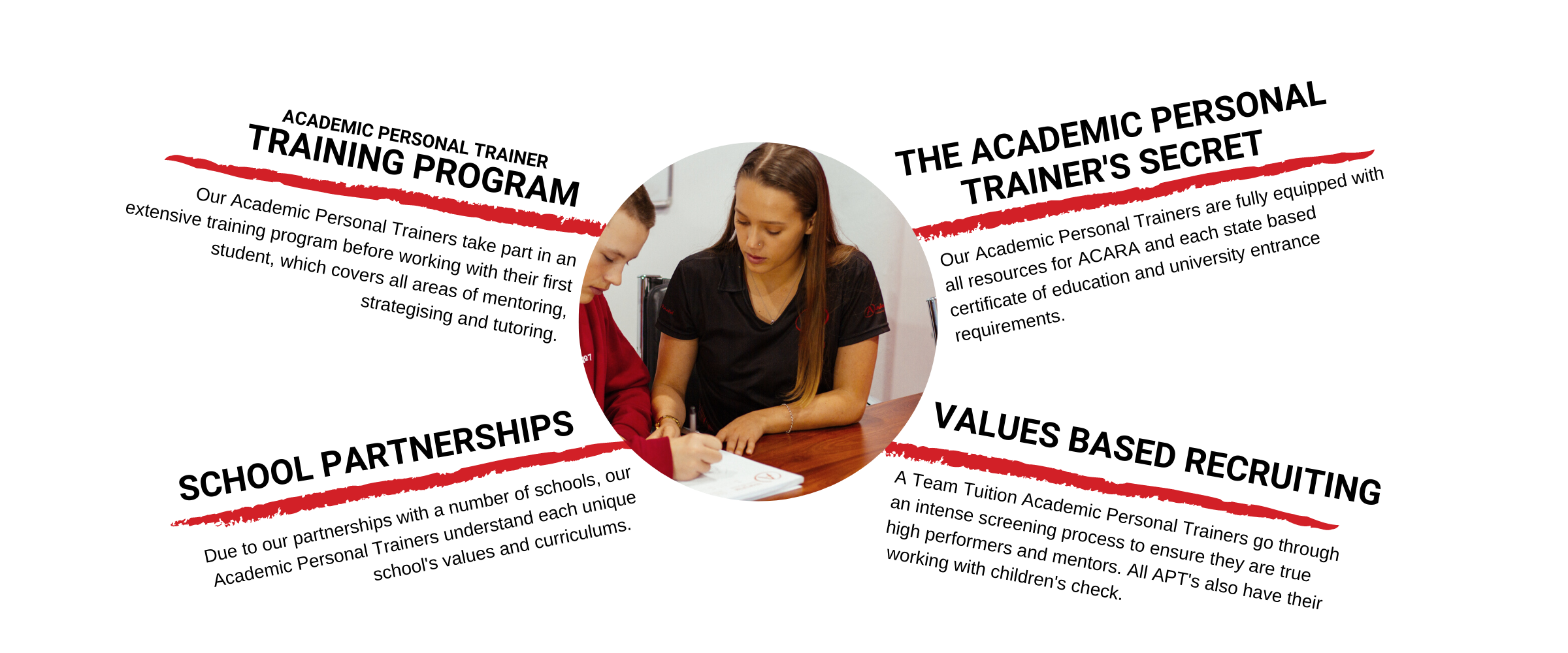 Why We Refer to Our Ipswich Tutors as Academic Personal Trainers
At A Team Tuition, we refer to our tutors as Academic Personal Trainers. Why? Because we don't just teach the Australian Curriculum but work to improve your child's mindset, support, and strategy.
THE A TEAM TUITION DIFFERENCE