Giving Your Child the Opportunity
to Succeed in School
WHY our private tutors CARE 
Our vision is to provide every student the opportunity to succeed in school through educating them in the most effective way for them to learn. Our tutors believe that any student can succeed academically with the right mindset, strategies, and support. We care because we are experts on the path to success in school and we know that your child can succeed too.
Our private tutors, backed by our whole team, partner with you, your school and your child to give them the best possible chance of success.  Helping your child reach their full academic potential isn't just about getting a place in the course they dream about, it's about building their confidence and knowing that they can achieve their goals. That's a powerful feeling and one that they'll benefit from for life.
how our tutors empower your CHILD to SUCCEED
The Secrets to Academic Success (STAR) Program
In order to transform your child's grades, confidence, and motivation, we focus on educating them on the three core pillars of success in school: Growth Mindset, Academic Support and Academic Strategy. It is when your child begins to understand and apply these three concepts alongside their Academic Personal Trainer, you will see your child's grades, confidence, and motivation transform.
The 'Secrets to Academic Revealed' (STAR) Program was carefully developed with child psychologists, teachers, university professors, and academics to deliver better academic results. The program is designed to work with your child to ensure that they understand exactly what they need to do to be successful. It is both theoretical and practical, and the nine modules allows students to learn the skills of an 'A' student while completing their own class work.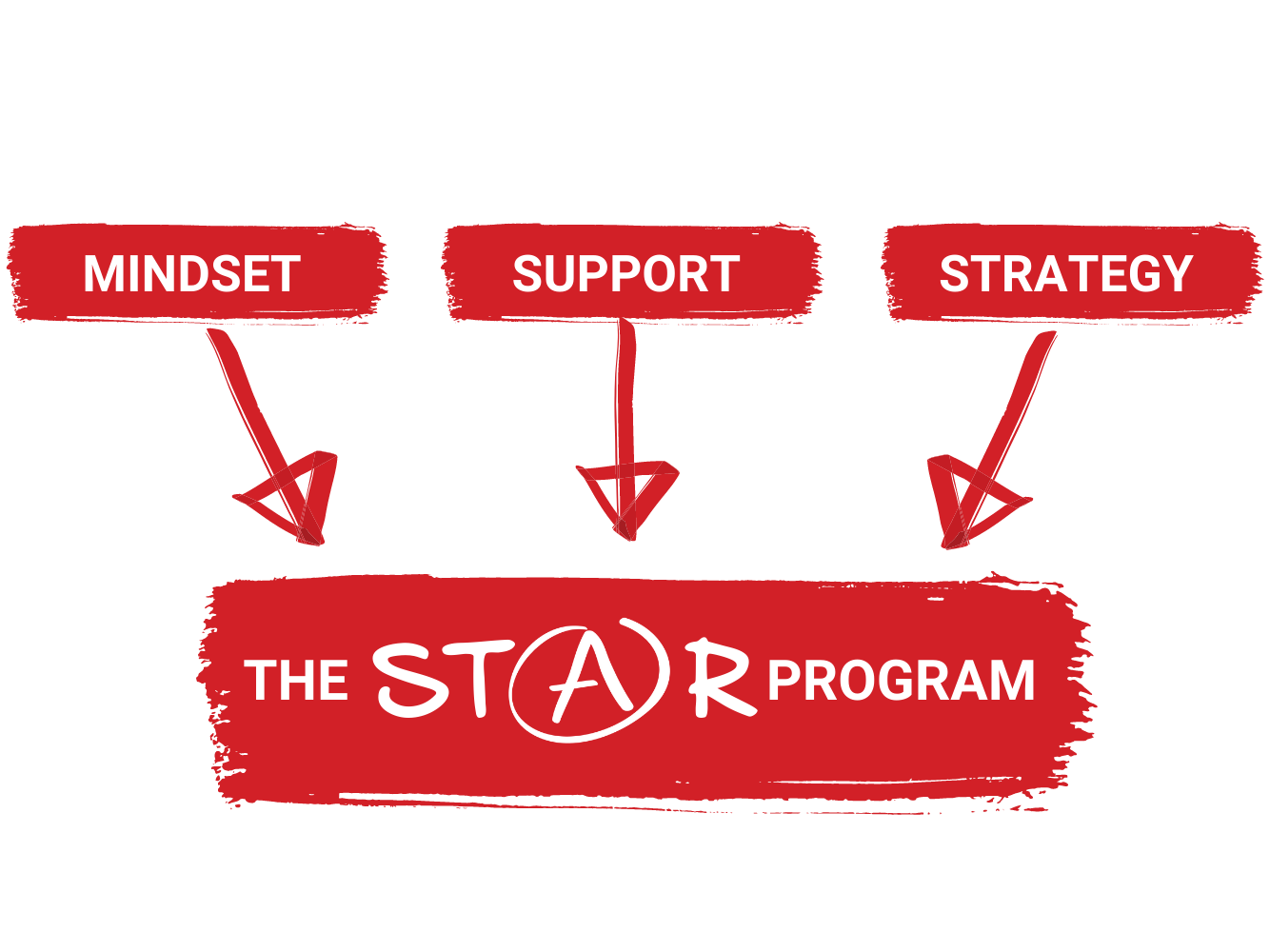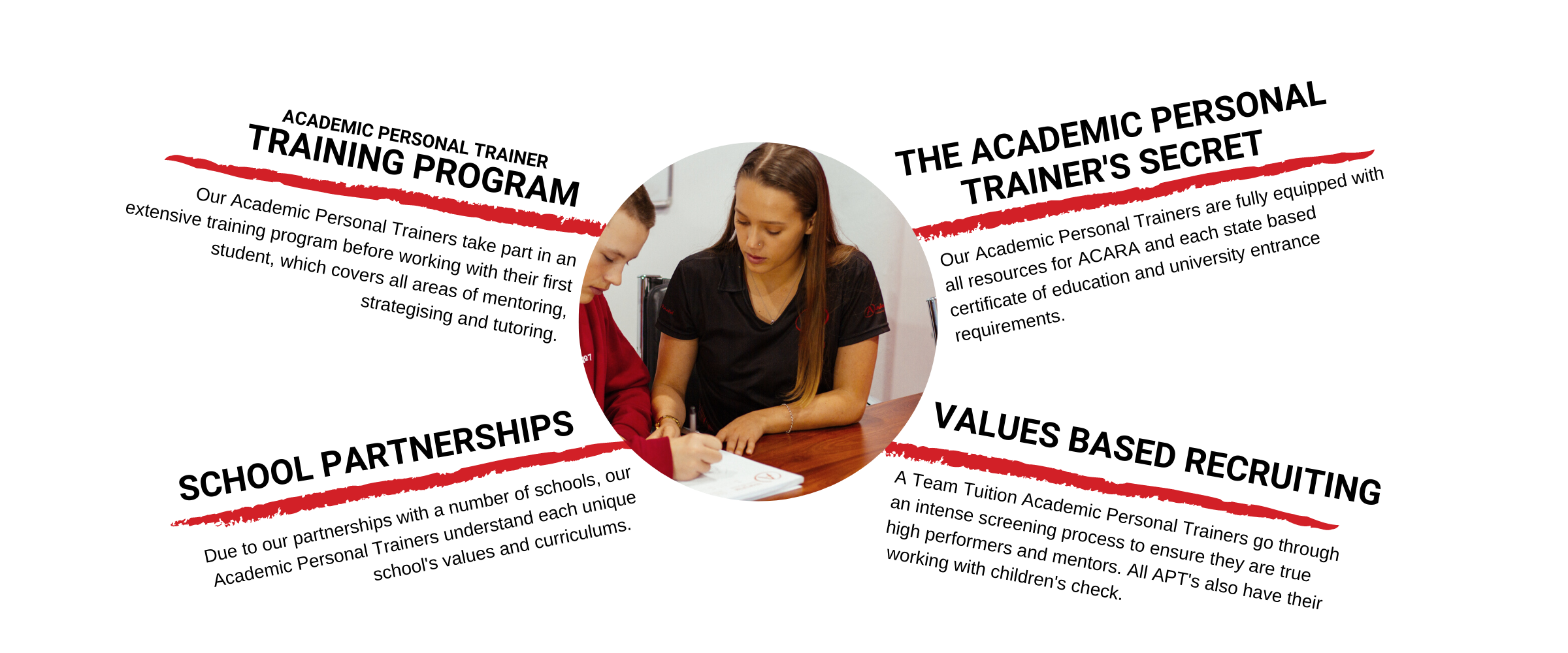 Your Academic Personal Trainer
At A Team Tuition, we refer to our tutors as Academic Personal Trainers. Why?  Because we don't just teach the Australian Curriculum but work to improve your child's mindset, support, and strategy.  Find a tutor that helps your child learn, not just study.
Helping your child CREATE STUDY STRATEGIES THAT WORK
One on one tutoring, in person or online, allows your child to create a connection with their Academic Personal Trainer. We offer all subjects across all year levels in all state curriculums.  Find a tutor that comes to you, with fully personalised, one-on-one private tutoring for children of all ages.
87% of our students achieve
A/B GRADES
95% of our students have a significant increase in
MOTIVATION TOWARDS STUDY AND SCHOOL
86% of our students have a significant increase in
CONFIDENCE TOWARDS SCHOOL
A TEAM TUITION HAS BEEN FEATURED ON
... What Our Clients Have To Say ...
"We needed to know how to turn that lightswitch on and I don't know how to. We tried everything, but nothing worked. Then A Team came along, and all of a sudden, the light switch turned on." 
Kirsty's child went from a D to A+ in maths in just 10 weeks! 
Kirsy – Year 10 Mum
Lydia has been a wonderful tutor for Felix. She has a great manner and is excellent at teaching content across a number of subjects. She has also been a supportive coach and mentor to Felix, helping with exam techniques and building confidence. She always brings positivity, encouragement and good humour. We feel really lucky to have had her support and know she has made an enormous difference to how years 11 and 12 have felt and the results that he has achieved.
Simone – Mother
"I think I was so successful because my study routine and how I approached maths completely changed. I used to have a bad mindset and hated the subject, now I really try my best!" 
Jess went from an E to B in Maths in just 8 weeks! 
Jess – Student, Year 10
In our experience, what we have found is the A-Team are prepared to be flexible (they really do look to provide the right tutor to the student) and are genuinely committed. A-Team are able to mentor and develop other key forms of aptitude, including emotional and social forms of intelligence.
Angus and Maria Cowan – Parents
A Team came to me and in just less than a term working with them I received an A for maths (the subject I struggled most with!) I definitely recommend A Team Tuition, this great, supportive team will help you succeed!
Skylah – Year 9 Student