Giving Your Child the Opportunity
to Succeed in School
WHY our private tutors CARE
Our vision is to provide every student the opportunity to succeed in school through educating them in the most effective way for them to learn. Our tutors believe that any student can succeed academically with the right mindset, strategies, and support. Find a tutor who cares. Our private tutors are experts on the path to success in school and we know that your child can succeed too.
Our private tutors, backed by our whole team, partner with you, your school and your child to give them the best possible chance of success. Helping your child reach their full academic potential isn't just about getting a place in the course they dream about, it's about building their confidence and knowing that they can achieve their goals. That's a powerful feeling and one that they'll benefit from for life.
Find a tutor who'll empower your CHILD to SUCCEED
The Secrets to Academic Success (STAR) Program
In order to transform your child's grades, confidence, and motivation, we focus on educating them on the three core pillars of success in school: Growth Mindset, Academic Support and Academic Strategy. It is when your child begins to understand and apply these three concepts alongside their Academic Personal Trainer, you will see your child's grades, confidence, and motivation transform.
The 'Secrets to Academic Revealed' (STAR) Program was carefully developed with child psychologists, teachers, university professors, and academics to deliver better academic results. The program is designed to work with your child to ensure that they understand exactly what they need to do to be successful. It is both theoretical and practical, and the nine modules allow students to learn the skills of an 'A' student while completing their own classwork. A Team Tuition isn't like other tutoring companies, find out how our private tutors get such remarkable results.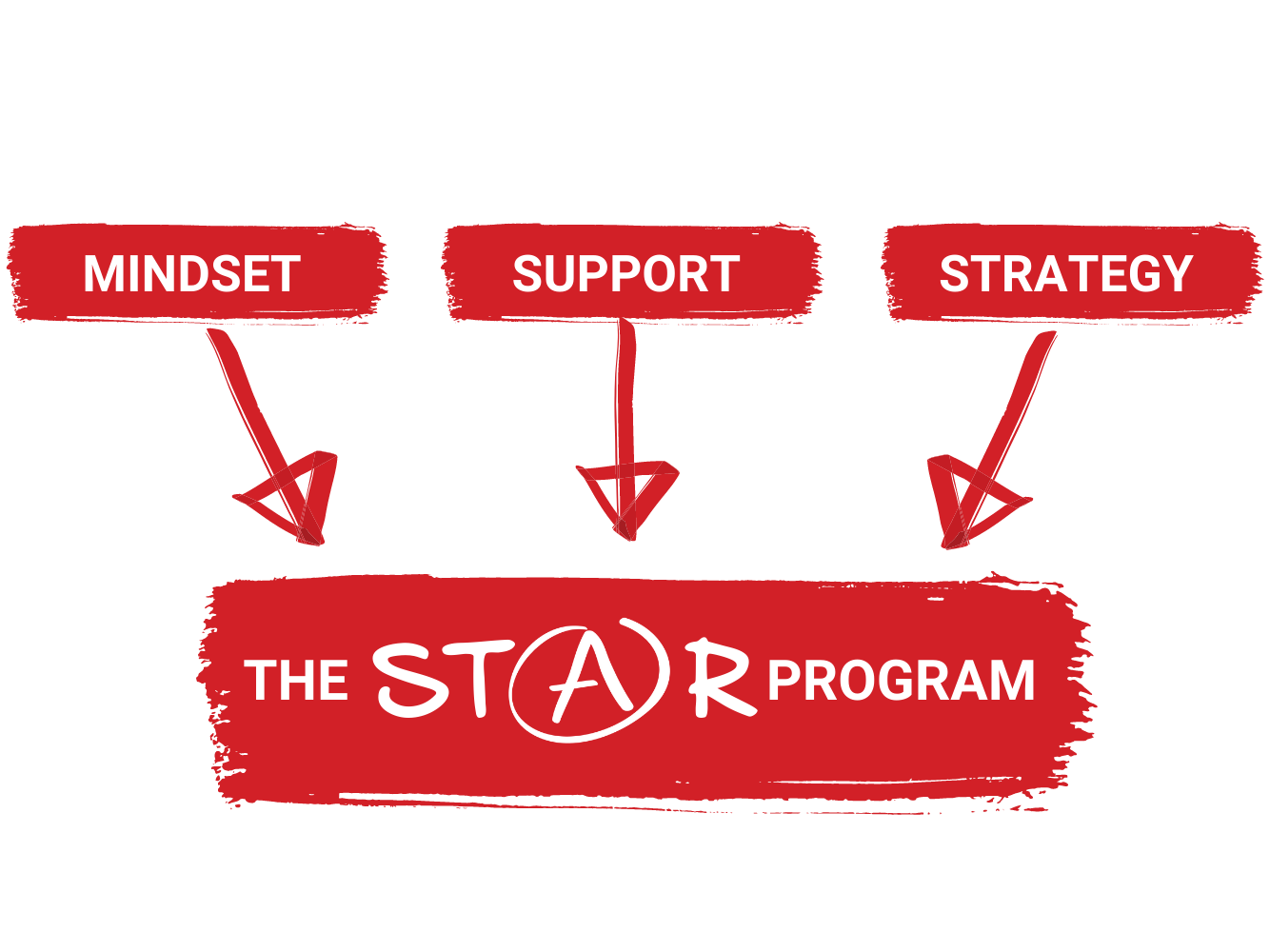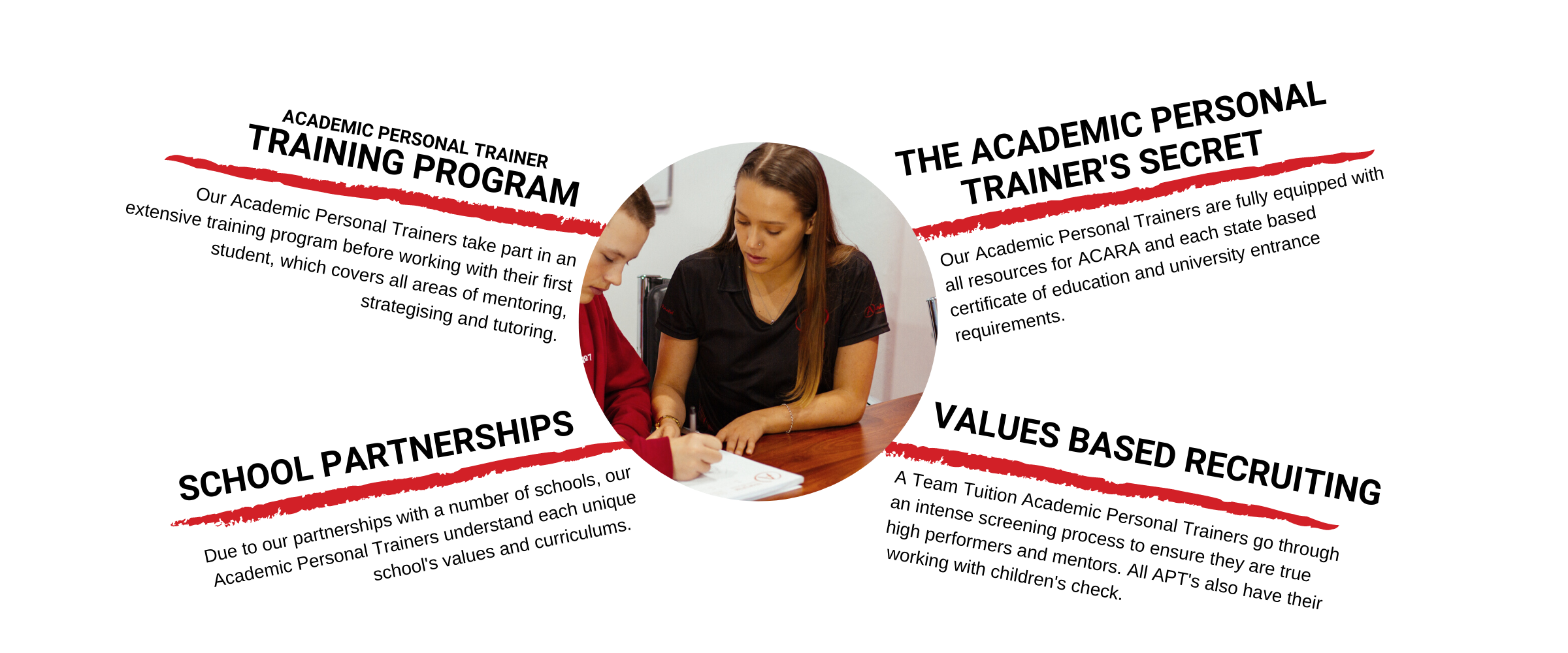 Your Academic Personal Trainer
At A Team Tuition, we refer to our tutors as Academic Personal Trainers. Why? Because we don't just teach the Australian Curriculum but work to improve your child's mindset, support, and strategy. Find a tutor that helps your child learn, not just study.
Helping your child CREATE STUDY STRATEGIES THAT WORK
One-on-one tutoring, in person or online, allows your child to create a connection with their Academic Personal Trainer. We offer all subjects across all year levels in all state curriculums. Find a tutor that comes to you, with fully personalised, one-on-one private tutoring for children of all ages.
87% of our students achieve
A/B GRADES
95% of our students have a significant increase in
MOTIVATION TOWARDS STUDY AND SCHOOL
86% of our students have a significant increase in
CONFIDENCE TOWARDS SCHOOL
A TEAM TUITION HAS BEEN FEATURED ON
... What Our Clients Have To Say ...
"Leyla and Coco have been working hard together on reading/recognition and spelling and the NAPLAN results show it!! With Coco being above the national average!!
Alicia – Year 3 Mum
Their approach to working with young people as extremely professional and very much focused on the individual needs and circumstances of each child. A Team is focused on delivering the best possible outcomes to all students irrespective of their academic ability and are well versed in supporting children within the Out Of Home Care sector.
Jason – Former School Principal
The word "Proud" doesn't even come close to expressing how we felt last night at our daughter's Awards Ceremony. The studying structure and skills she has developed since starting with the program has been invaluable.
Collette – Mother
"Kate and Georgia have established a positive working relationship and we are so very grateful for Georgia's support and guidance of Kate with her learning. Georgia's tutoring as well as her warm and friendly personality, have been a welcome addition to Kate's study routine. Her assistance has boosted Kate's confidence and given her a sense of reassurance that her learning needs are well understood in terms of the curriculum requirements for this stage in her learning journey.
Thank you for sending Georgia to us. Quite simply, she is an angel and we can't wait to return to tutoring with Kate in 2022."
Bernadette – Year 11 Mum
His tutor had instant rapport with him and was able to get him to open up about things we had no idea on (despite asking what we thought were the right questions!). Our son's teacher has already mentioned how much more focused he is and that his attention to detail is improving. We are really very impressed with A Team Tuition.
Katrina – Mother