Online Tutoring vs. In-Person Tutoring: Which One Is Better for Your Child?
You've just returned home from parent-teacher night. The verdict? Low scores in maths and social studies. Tutoring is no longer optional for your child–it's a must-have.
But with your child's limited attention span and the family's busy schedule, it seems impossible to choose between online tutoring and in-person tutoring. Of course, they both have advantages and drawbacks.
Online tutoring can happen anywhere you have a stable internet connection. The student and the tutor don't need to live near each other either. 
Rather than participate in a tug of war about which tutoring style is better, your decision will boil down to what works best for your child's learning needs. 
Let's dive into the pros and cons of online tutoring versus in-person tutoring so that you can get your child's learning experience [and grades] back on track.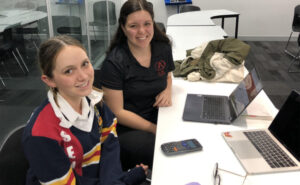 When Should You Choose In-Person Tutoring?
Home-Court Learning Advantage
One of the biggest advantages to in person tutoring is that the tutor works with your child in your home. It has been shown that working in familiar surroundings may improve their learning experience even more. If an in-person tutor comes to your home, that can give your child a home-court learning advantage. Think about it this way. The other 22 kids your child learns with at school won't be around. Home is quieter, too. And it's familiar to them.
While there are several benefits of tutoring at home, one stands out above the rest—home is a safe space. When a child learns in a safe space, they're more likely to relax and focus on the lesson.

When Should You Choose Online Tutoring?
Online tutoring programs are often recommended for families with limited availability, requiring assistance in uncommon subjects, or when our in-person capacity near your home is nearly full.
Tutor Availability
Scheduling an online tutoring session is far more accessible than an in-person tutoring session. Most online tutors have very flexible schedules for their classes. That's because many tutors are location-independent, so they can log in from anywhere, anytime they want–no commute necessary.
As a result, you may have more tutoring time slots available. If anyone needs to cancel or reschedule at the last minute, that would be easier, too. And a bonus? Neither you nor the tutor wasted a commute.
Opting for online sessions also grants your family access to A Team's extensive pool of tutors, resulting in increased availability and a wider range of subject opportunities.
Possible Downsides to Online Tutoring
While online tutoring with the right tutor is still an interactive experience, it still has a few downsides. If there are technical issues on either end, this can interrupt or even end the session. Also, depending on the type of online tutoring you choose, you may find the sessions need a more personal approach. Let's take a closer look at these downsides.
Susceptible to Technical Issues
Online tutoring requires a stable and reliable internet connection for both the tutor and the student. That's the bare minimum, though. When it comes to technology, issues are always lurking, and they may be out of your control. We all know technical glitches can arise–from audio interference to no battery charge, a cup of juice spilled onto the keyboard, and more.
Personal Approach 
One of the main concerns when thinking about online tutoring sessions is a lack of personal approach. Although, many tutoring companies, such as A Team Tuition offer one-on-one lessons where the tutor and your child communicate in real-time on platforms that allow for interactivity and efficient communication. This allows the tutor to tailor the lesson as necessary to maximise your child's learning experience, just like an in person session.
Online or In-Person Tutoring is
Not
a One-Size-Fits-All
Despite the pros and cons of online and in-person tutoring, you'll want to choose the type of tutoring that best fits your child's learning needs. 
And if you can't decide between the two? 
You can always experiment with both. Observe how your child responds in each session. You can take notes and then discuss them with your child and the tutor to determine the best tutoring option moving forward. 
Are you ready to get your child's grades back on track? Our online and in-person tutors at A Team Tuition can meet your child's individual learning needs with our proven tutoring methods. Our tutors will boost their confidence and help them improve their grades. Let us help you find your child's in-person or online tutor today!