How Our Gold Coast Tutoring Scholarship Winner Achieved The Impossible
A Team Tuition has achieved what our current education system claimed was 'impossible' – taking two failing students and turning them into A students!
For years, we have held fast to the belief that our Gold Coast tutoring service is able to take absolutely any student from any grade, school, and circumstance, and help them achieve the best possible results.
In 2017, we set out to prove this belief publicly, and transform a student into an A level achiever through providing them with a free Transformation Scholarship valued at $5,000.
Project Limitless
The scholarship, titled Project Limitless, included over 50 hours of tutoring, multiple sessions with a performance psychologist, a parenting workshop for the families, all aimed at creating the perfect environment for success. This also included multiple lunches with Hayden and their tutors, as well as Olympic Swimmer Cameron McEvoy!
We partnered with local Gold Coast school Miami State High to pick a student who had the drive and motivation to achieve highly, but lacked the process, strategy, and necessary support.
You can read all the details of the Transformation Scholarship here!
The Lucky Winners
Through much deliberation and interviewing, A Team Tuition and Miami State High agreed to provide not one, but two scholarships!
These scholarships were rewarded in April of 2017 to Skylah Rambold and Waide Carson – two incredibly deserving individuals, who both had an intense passion and drive to succeed, but were stuck on a C- and D-standard grade level. The goal was to help support and mentor them through to an incredible transformation with our tutoring service on the Gold Coast.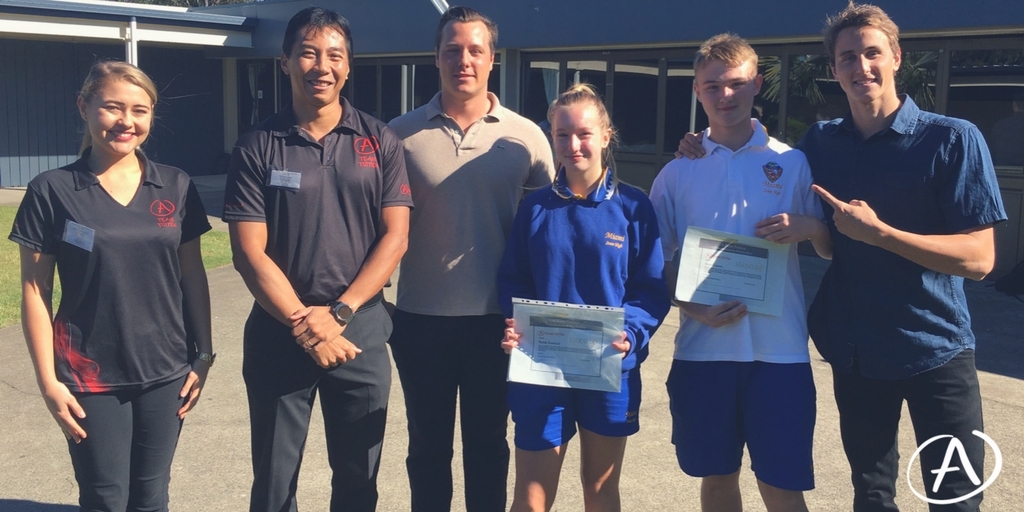 You can read about their original reactions and circumstances here, and see the Channel 9 News report on the scholarship below!
Both students began their transformation journey in Term 2, and within three months of tutoring, Skylah had moved from a C- average all the way to a straight A average! Waide was close on her heels, shifting from a C- to a B standard grade level – not to mention an incredible personal transformation in terms of his intrinsic motivation and self-confidence.
We wrote all about the incredible first few months of their journey in one of our previous blogs, How A Team Tuition Tutors are Transforming Gold Coast Students.
The Grand Finale
We have come to the end of the Project Limitless journey now, and are over the moon to announce that Skylah and Waide are both, officially, A students!
Skylah has maintained her incredible results throughout the year, soaring from a C- grade to continuous straight A's. She has achieved this not only in Mathematics, the main subject she was tutored in, but also in many of her other subjects!
For her incredible efforts, Skylah received an Academic Award for Most Improved Student and was included in the top 5% highest performing students in her entire cohort! She has surpassed expectations and all nay-sayers, and we are so incredibly proud of her!
Waide has faced incessant adversity in multiple areas, especially his personal life. Initially low on motivation and self-confidence, Waide worked incredibly hard with his tutor, Malcolm Schulstad, to grow and develop himself into a high performing student.
Initially rising to achieve a B standard grade in Mathematics – his assigned tutoring subject – Waide continued to push himself, developed his academic processes and strategies, and never once gave up, no matter what happened in his personal or schooling life.
We are very proud to announce that, due to his amazing efforts, Waide Carson has officially become an A standard student, achieving an A in Science – his most beloved class! These results are a testament to what A Team Tuition knows to be one of the foundational elements of success: resilience.
Both students provided personal reflection on their individual journeys, and discussed the life-changing impact that the Transformation scholarship had on their lives.
Make sure to head over to our blog to read how Skylah and Waide each became the very definition of an exemplar A Team Tuition student.
What's Next?
A Team Tuition cannot express the pride and joy that we feel about Waide and Skylah's transformations. Whilst we were continually sure of their coming successes, both students faced incredible adversity in different areas during the year, and had to work hard to achieve to the level they aimed for. Their results are so well deserved, and we cannot wait to see how their lives continue to transform, as both of them have signed on as tutoring clients for the years to come!
A life-long change and impact has been made on both students – and that was the goal of our founder and CEO, Hayden McEvoy, from the start. Speaking to both students, Hayden remarked,
"I want you both to remember this exact moment, this year, and all the things you faced and went through. In the years to come, you'll face struggles and you'll come to points where maybe you falter or don't achieve what you want to. I want you, in those moments, to think of this journey, and to remember what you achieved. It will make you remember that with the right effort, the right strategy, and the right mindset, anything is possible."
We know that this journey will stay with both students for years in the future, and propel them towards success.
We are also incredibly excited about our future Gold Coast Tutoring projects (which may or may not be connected to Project Limitless!), and can't wait to share those with you soon. Make sure you continually stay up to date with us on our Facebook, Instagram, and blog site to see what is coming soon…