Meet the Winners of A Team Tuition's $5000 Tutoring Scholarship!
Imagine what it feels to win a prize so great, that you know from this point onwards, your life will change forever.
On Wednesday the 26th of April 2017, A Team Tuition was able to gift two lucky students this exact moment. As Skylah Rhambold and Waide Carson's names were called to the stage at their weekly whole school assembly, both students knew from that moment onwards, their high school experience was about to change forever. Skylah and Waide were presented as the winning recipients of the $5000 A Team Tuition Scholarship. -
Why Waide and Skylah for our tutoring scholarship?
-Swing back the clock 8 weeks to February 2017 where Skylah, Waide and the Miami SHS student cohort were sitting with Hayden McEvoy, the founding director of A Team Tuition, who pitched the ultimate student transformation scholarship, valued at $5000.
Reflecting on this moment, Hayden recalls meeting Skylah and Waide individually.
"I remember both Skylah and Waide asking for flyers on their separate year level assemblies, and it's funny how both of their positively infectious energy and enthusiasm brought them to where they are to today, not knowing that this was the seed that sparked their courage to apply for this amazing schooling opportunity."
Both Waide and Skylah had different experiences when drafting their written scholarship applications: Skylah rushed home to send her application off immediately, where Waide went away to explain to his parents about this opportunity.
Both nervously awaited their results.
Two weeks and 106 applications later, we had an overwhelming response of interest for the scholarship. The team at A Team Tuition were so impressed with the outcome. Hayden McEvoy commented on the success, "Both A Team Tuition and Miami SHS were honestly expecting around 20 applications, so when we received a total 106 expressions of interest, we were astounded and knew we had founded something special that was desperately needed within the education system," quoted Hayden McEvoy.
From here, A Team Tuition endured the arduous yet heart-throbbing process of analysing 106 applications which asked two simple questions:-
What would this scholarship mean to you?
What do you believe creates success at school?
-A team of 6 senior A Team Tuition representatives sorted through the applications and short listed the top 20 applications for our tutoring scholarship. After this, the top 20 were then sent to Miami SHS. There, the students' teachers submitted a criterion on each student, including their current and past grades.
The top 20 applications were then short listed into the top 5 students who demonstrated the most potential to become elite level students. At this stage, the top 5 students were chosen on the following characteristics:-
Student Resilience – A Team Tuition's Number 1 determinant of success at school
Student's Attitude towards Success
The Student's Behaviour and Effort within Classes
The Student's Relationship with their Teacher
The Student's Initial Grades and their Growth Potential
The Student's Perspective on what Creates a Successful Student-
All these factors were clear identifiers of which students demonstrated the most potential to transform.-
The following week, a panel of Miami SHS and A Team Tuition representatives were put together to interview the chosen top 5 students. This was the final stage of the application process, and involved interviewing the following stakeholders involved with each applicant:-
The Miami SHS student
The student's parents
The student's teachers
-By interviewing various stakeholders that surround the student, we could gain a holistic perspective on exactly what each student was like and the potential they all had to transform. The decision was difficult, as all five students were excellent and showed huge potential.-
Across a jam-packed two days, all 15 interviews were conducted. Although all students and their families were incredibly impressive, there were two students whose stories stood out above the rest.-
Year 9 Student Skylah Rhamold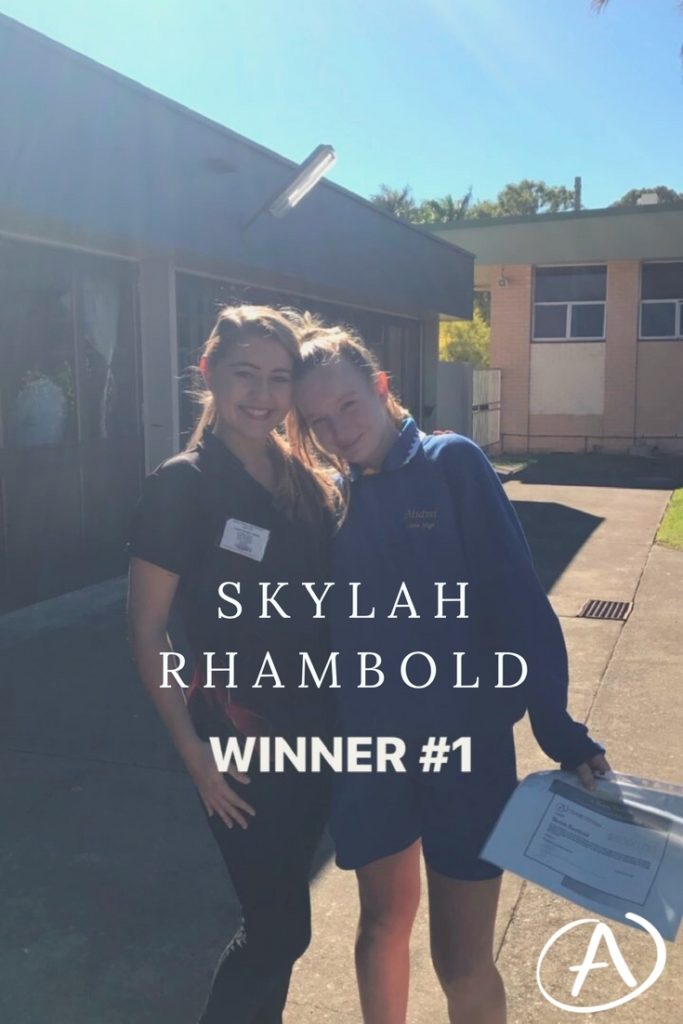 Subject: Maths
Starting Grade: C-
After interviewing Skylah, we were immediately captivated by the resilient attitude that she displayed throughout her entire scholarship application process. Her commitment and grit towards her school work impressed us the most. When Skylah was asked if she thought she could become an A student, she smiled and confidently told us it was her dream, and she believed she could do it with our help.
Another aspiration of Skylah is to become a paramedic when she leaves school – all of which stems from having one remarkable and memorable paramedic by her side through an awful car accident. After meeting with Skylah in person, we could tell she had so much untapped potential. We felt with the right study program and academic support in place, we would see huge improvements in Skylah's studies.
Skylah's Teacher
After speaking with her Maths teacher, we found that the connection between Skylah and her teacher was a recipe for success! This was very apparent when her teacher could not stop raving about Skylah' diligence and kind hearted nature. Skylah had been attending regular maths tutorials with her teacher, before school, since the start of the year. Despite the changing volumes in student number, Skylah was committed and showed up every single week.
Skylah's Parents
Skylah's father, Michael Rambold, attended the interview. After seeing the obvious love, support and admiration for his daughter, it was obvious to the interviewing panel that there was a beautiful family support network in place for Skylah. After meeting Michael along with Rebecca and Barbra - Skylah's Mum and Grandmother - at a later date, it was quite clear where Skylah gets her optimistic attitude from.
Year 10 Student Waide Carson

Subject: Maths
Starting Grade: C-
Throughout Waide's interview, we were so incredibly impressed as a group with how open and optimistic Waide was. Hayden commented after the interview, "Waide was so well spoken and impressive that he reminded me of some of our older male Gold Coast tutors!"
The panel was surprised to then hear that Waide had been diagnosed with Asperger's Syndrome. It was clear that over the years that Waide had won over his battles with Asperger's, having achieved so much in his personal life: finding a passion for fitness, and attending the Army Cadets on top of striving for the Navy! Waide made a note that Term 1 of 2017 was the first time he had passed maths, and he was incredibly proud with his first C- for the subject.
When Waide was asked if he thought she could become an A student, he also smiled and confidently told us he believed he could 100% achieve this. This gave us the confidence that he already had the mindset of an A student. All it would take from here would be connecting the dots of his academic strategy.
Waide's Teacher
After interviewing his teacher, we were impressed to hear how enthusiastic and engaged Waide was in class. We were confused as to how he was barely passing the subject as he seemed to love learning. After investigating further, we realised that Waide's study strategies were not allowing him to perform to the level he wanted to – thus, giving him a fantastic place to start with his Transformation scholarship.
Waide's Parents
Both of Waide's parents, Vicky and Jeff, attended the interview and were great company. Waide's mother had worked long term with disability services and had some brilliantly innovative methods that she had used over the years to keep Waide engaged in his learning. After meeting with both parents, we were delighted to see that Waide's curious and ambitious attitude had been wonderfully nurtured at home, having a very responsive support team around him.-
Why Two Tutoring Scholarships?
Once the interviews had been completed the panel had the big decision to make. After hours of analysing, brainstorming and debating it was decided that we couldn't pick between the two stand out candidates. Through this, Hayden approached the principal, Mrs Susan Dalton, and offered to include a second scholarship if the school funded 50%. The decision was then made that two students were to win the scholarship.
From here, Channel 9 News were contacted and the story was now to be covered by them on the day of the announcement!
Channel 9 News Coverage of the Tutoring Scholarship
The Big Day
Finally, the big day had arrived on Thursday April 27th.  A Team Tuition ran a live video on Facebook whilst Channel 9 covered the announcement. It can be viewed at the A Team Tuition Facebook Page.
From here Mr Jason Cross, Deputy Principal, made the announcement after an exciting drum roll from all the students. Skylah and Waide's names were announced, and they were celebrated as they took to the stage. It was evident how much the scholarship meant to both student, with many tears and emotions flowing!
After the big announcement, both students were guided outside to meet Cameron McEvoy, Dual Olympian and Commonwealth 100m Freestyle Record Holder.
After speaking to Cameron, they were rushed off to multiple interviews with Channel 9 and A Team Tuition. Once the hype of the event had worn off, both winners spent 30 minutes getting to know their new tutors: Malcolm Schulstad and Libbie Rowley-James.-
The "A Team"
Selecting two Academic Personal Trainers to represent the brand from over 65 staff at A Team Tuition was a difficult process. After the winners were selected, the management team at A Team sat down and analysed both winners, and determined which tutors within the company would best fit. The final decision led to the follow two Academic Personal Trainers:
Skylah's Tutor: Miss Libbie Rowley-James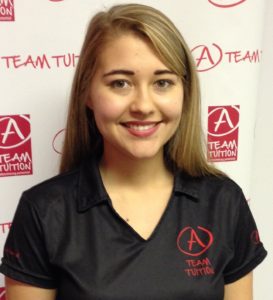 Libbie has 10 years experience in the tutoring industry, teaching hundreds of students of all ages and demographics. She has tutored for school aged refugees on the Gold Coast, and has been a national program manager with the Oaktree Foundation in 2012, hosting an educational tour for Australian high schoolers in Cambodia. Her time spent learning about the power of poverty and education, and her contribution to various children's lives resulted in being nominated in 2013 for Young Australian of the Year.
Libbie has worked for A Team for 3 years and has led many students to successfully achieve A grades . Her vast background in working with high school students will allow Skylah to learn all of the tips and tricks to being a strong and ongoing A standard student!
Waide's Tutor: Mr Malcolm Schulstad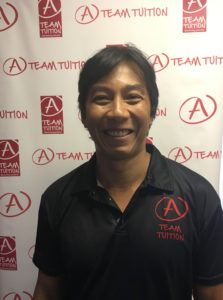 Malcolm has two daughters (both A+ students). He is the current business owner of a small business, Majjak Candles and Fragrances but took up tutoring with us as he wanted to do something bigger then himself, and be involved with transforming lives. He was the National Operations Manager for Austar Entertainment for 7 years. He has completed a Bachelor of Aeronautical Engineering, graduated in the Royal Australian Air Force Training School and was a graduate of the Australian Defence Force Academy.
All of these incredible achievements are constructive to Waide's lifetime goal of joining the Navy and army into the future, and eventually heading into aeronautical engineering.
The Transformation Plan
The official Transformation through Tutoring program begins on Friday the 5th of May. The program initiates with an orientation luncheon, which involves Cameron McEvoy and the rest of the transformation team. Here the families and winning students will be inducted and briefed on the program plan.
Hayden, the Director of A Team Tuition, has released the full details of the program, aimed at specifically targeting various factors affecting the students' lives:
Motivational induction session, setting the standard for students'  confidence and mindset
3 Hours per week of tutoring with an A Team Tuition Academic Personal Trainer
Academic Strategy plans, created and customised for both students
Parenting Workshop, where A Team Tuition's resident parenting psychologist will educate and mentor the parents 
Fortnightly meetings with the Academic Personal Trainers in regard to strategy and progress
Our aim is to develop these students throughout the year, to lay a solid foundation for their continued success.
Stay tuned and watch us transform Skylah and Waide into A students through customised Academic Personal Training!