7 Ways ATAR Will Change The Way You Apply For University
For Year 12 students – the end of your high school experience is near. However, it's important not to drop the ball just yet. With half of your senior year already gone, the final semester is still your canvas and now is the time to paint the picture of your future! Term 3 is undoubtedly one of the most stressful terms for Year 12 students. Your final OP predictions are released, university applications open and students are required to sit the Queensland Course Skills Test.
At A Team Tuition, we have seen this stress firsthand in our senior students and at this time each year, our Academic Personal Trainers are starting to integrate university application tips and tricks into sessions while balancing school assessment. So we thought – what better way to start the second semester of the school year with an outline of what you should expect when applying for university. For Year 12 students, take important notes!
TIP 1: Be aware of the course and institution entry requirements – and the ATAR change!
When applying for a university course, students must be aware of certain entry requirements that they need to reach to be eligible for an offer at a tertiary institution. Most universities will have these requirements outlined on their websites or within copies of their undergraduate coursebooks.
Course entry is primarily based on your academic achievements that you've accumulated over the course of Year 11 and 12 and is represented through an Overall Position ('OP') score or an Australian Tertiary Admissions Rank ('ATAR'). Your OP will be represented by a number from 1 to 25, where 1 is the highest and 25 is the lowest. An ATAR is presented in the form of a percentile between 0.00 and 99.95 (anything below 30.00 will be expressed as "30 and below").
For current Year 12 students in Qld, your OP score is the first determining factor for your admission to a tertiary institution. As of 2020, Qld Year 12 students (current Year 10 students) will receive an ATAR as opposed to an OP to align with the rest of the Australian states and territories.
Entry requirements to a particular course will usually include obtaining a specific OP or ATAR score as well as the competition of prerequisite subjects. Where some institutions merely specify an OP or an ATAR score, you will have to convert one to the other. Not to fret just yet though! An OP score can easily be converted to an ATAR score and vice versa. The below table outlines the average ATAR equivalent for an OP score.
It is important to be aware that entry requirements do differ between institutions and that reaching an entry requirement specified for one university will not mean that you have reached the entry requirements of another university.
For example, one university might offer a Bachelor of Laws course where the entry cut-offs are the equivalent of an OP 8, ATAR 84 and the completion of a Sound Achievement in English across 4 semesters. Another university's entry requirements for the same course may be the obtainment of an OP 2, ATAR 97 and no prerequisite subjects specified. It is important to be aware of your OP/ATAR prediction and what entry requirements you do meet.
Note: A Sound Achievement is equivalent to a C while a High Achievement equals a B and a Very High Achievement, an A.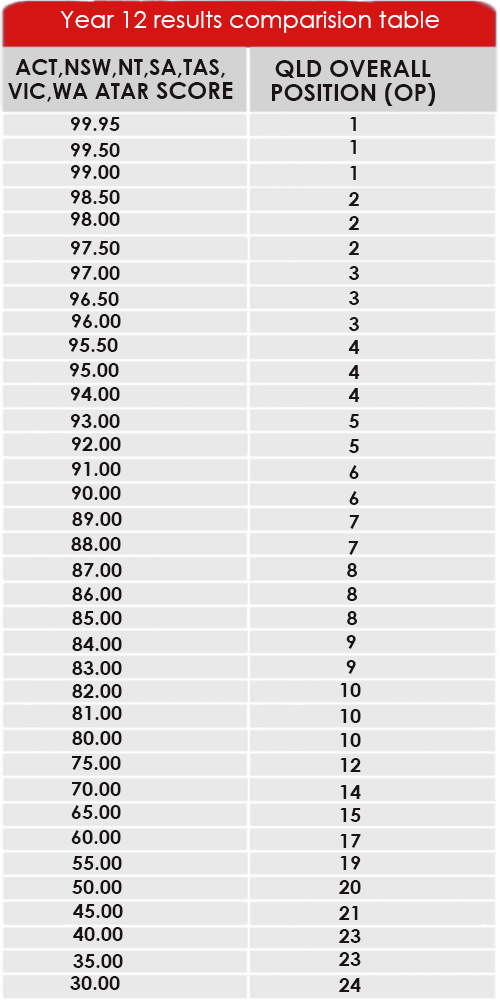 TIP 2: Outline your university preferences
Now that you are aware of the course and institution entry requirements, it's time to outline your university preferences. Identifying which universities to apply for can be a tedious and complex task especially for students who aren't quite sure where to start! There are 43 universities in Australia so you've got lots of options to choose from. Each year, these universities are ranked alongside other international institutions. It may be of value to you to know where certain Australian institutions rank and for what reason.
There are a multitude of considerations when condensing your list of university preferences. Our best advice is to write a list of what you're looking for at a university. Are you looking for a shortened degree? Or perhaps a university with well-renowned exchange partners? Are you looking to move to a different state to take advantage of more opportunities? A course that includes a practical rather than theoretical element?
Depending on what your career aspirations are, these considerations may increase the likelihood of gaining employment in your chosen field. Simple methods to rank universities may be by giving them a rating out of 10 in terms of each of these considerations that you've identified or writing a pros and cons list. By doing this, you're taking steps to ensure that you'd be happy attending any of your preferences, rather than just selecting a bunch of institutions and hoping for the best.
An important piece of advice for school leavers is not to fall short of your dreams. Aspire to achieve greatness, plan for years ahead and think about where you want to end up in the world. Apply for your dream university and your dream job. Don't be disheartened if you plan's don't unravel the way you imagined in your head. Don't give up on your goal of being a doctor if you don't make the cut for the first round.
Remember, entry requirements are not definitive. Some universities, if they do not meet the number of applications for a semester intake and course, may make second-round offers. So, for instance if you received an OP 5 and a course has an entry requirement cut off as an OP 4, you may receive a second-round offer if not enough people applying for that particular course made the requisite cut-off. Don't immediately think the worst, there's still hope!
TIP 3: Gather the requisite documents for your application
When composing an application to a university admissions centre, you will need to submit documentation supporting your academic achievements. Gather this information as early as possible and have all of this information scanned and ready on a hard drive or USB before logging on to avoid unnecessary delays. For Year 12 students, documents will need to be evidence of your grades across both Year 11 and Year 12. You will need your report cards for Semesters 1 and 2 of Year 11 and Semester 1 of Year 12.
Other additional documentation may be certificates that you have obtained, proof of other professional qualifications, identifying documents (such as a license or passport), reference letters, a resume and a personal statement. Some institutions require more supporting documents than others – so it's safe to have everything completed and ready well before applications close.
If you're seeking reference letters to support your application, it is best to give your referees ample of time to draft a letter. When contacting your potential referees, be specific in what the purpose of their reference letter is – for an application to a university, a grant or a scholarship application? This allows the referee to refer to the purpose within the letter which looks much more professional than a letter template. This leads to the second tip: help your referees be specific within their reference.
If you're applying for a scholarship at a university, the scholarship will outline eligibility criteria that must be addressed in an application. Ensure that your referee is aware of this criterion. A lot of students ask a referee, usually a teacher, to write a reference letter, only to be dissatisfied with the end result. Year 12 teachers will be writing reference letter after reference letter for their students and they will find it difficult to be able to reiterate your exact achievements from school and how each of these achievements, match the criterion outline. Offer to give your referees a copy of your resume which outlines your achievements.
Bonus Tip: Submit proof of your OP predictions and class rankings if you're ahead of the pack!
TIP 4: Alternative Pathways Do Exist
If you don't meet the minimum entry requirements to an institution, don't call it quits straight away! Remember the old proverb, "where there's a will, there's a way!" Even though your entry score isn't up to scratch, there are alternative ways to gain course entry so that you can fulfil your goal of becoming a dietician or a physiotherapist.
If you fall short of the prerequisite subjects, you may choose to enrol in a bridging or enabling program to waiver the subjects you didn't study in high school. Enabling programs will allow you to obtain a selection rank for entry into a university while a bridging program is usually a sing-subject unit which will be characterised as completion of prerequisite subjects for certain degrees. Be aware of the difference so that you can decide which options is most suited for you.
Enrolling in another undergraduate degree, similar to your first option, is also another option. For example, if you're unsuccessful with gaining direct entry into a Doctor of Medicine, you could instead enrol in a Bachelor of Biomedical Science which will cover the basic sciences and subjects that you would be expected to complete in a Doctor of Medicine. As a result, any subjects that you would complete in a Bachelor of Biomedical Science would usually pass onto your next degree as credit and render your senior school grades obsolete. You've got a clean slate!
Another alternative options is electing to complete the Special Tertiary Admissions Test (STAT) which assesses a student's aptitudes. This may increase your chances of gaining entry to a course. Other options include gaining Vocational Education and Training (VET) or Technical and Further Education (TAFE) qualifications in the meantime. Completing a certificate, diploma, advanced diploma or associate degree through VET or TAFE will increase your selection rank.
Contacting universities directly will allow you to talk to someone about what alternative pathways are available at each university. While this process may draw out your study time, it'll be worth it in the end.
TIP 5: Identify which institutions fall under what university admissions centre
Australian states and territories all have different Tertiary Admission Centres to manage applications submitted by students for courses within that state or territory. This tip is particularly relevant for students wishing to apply interstate – make sure you know which university admissions centre you must go through to apply for your preferred institutions. The Tertiary Admission Centres in Australia are:
Note: If you're applying for an institution in Tasmania, apply directly to that institution.
TIP 6: Apply for scholarships, education access schemes, grants etc.
Applying for a handful of universities should not be the only applications you should submit in this process. Most universities offer scholarship opportunities for school leavers and this application is separate from an application that you would have submitted to a Tertiary Admissions Centre. Scholarships can cover an array of costs from living expenses, to textbooks and tuition fees. Use the same process as outlined in Tip #2 to narrow down which scholarships to apply for. Take note of the deadlines and what documents you will need to submit.
Education Access Schemes (EAS) are an equity-based initiative designed for students who have experienced difficulty in their senior years as a result of extenuating circumstances. These circumstances may include disrupted schooling through attendance at a three or more different secondary schools, financial hardship, personal illness/disability, language barriers which inhibited learning or attending school in a rural or remote area. If any of these circumstances apply to you, an EAS will adjust your selection rank for a course or reserve a spot for you in a particular course.
If you're unable to obtain a scholarship through an institution or and EAS doesn't apply to you, try your hand at government grants or start investigating for scholarships that might pop up as you progress through your studies.
TIP 7: Track submitted applications, and important dates.
Keeping a record of your applications is a good idea to recall what information you submitted for each application. Some institutions may request additional documentation, so it is important to be aware of what documents you've already submitted to make sure you don't become a repeat offender. This shows institutions that you are organised.
After submitting a multitude of applications, there are inevitably going to be a list of dates that you will need to remember such as the final date to adjust course preferences, final day to submit documentations, when first-round offers are made, when second round-offers are made and many more. Being aware of the dates prior to submitting your applications will ensure that you are not fumbling around at the last minute because you've mistaken a due date for a week later. Two important dates that Queensland Year 12 students should currently be aware of are the dates for QCS! Black out Tuesday 4 September and Wednesday 5 September. Students will be completing the Writing Task and the first Multiple Choice Test on the Tuesday and the Short Response Task and the second Multiple Choice Test on the Wednesday. For New South Wales students, examinations for your High School Certificates commence Thursday 18th October 2018 and will conclude no later than Friday 9th November 2018. For students located in other jurisdictions, important dates can be accessed using the Victorian Curriculum and Assessment Authority website, the School Curriculum and Standards Authority for Western Australia website, and the Office of Tasmanian Assessment, Standards and Certification website. Other important dates can be found by accessing the websites of tertiary institutes across Australia.
Applying for university can be a daunting task for school leavers. The best piece of advice to take away from this blog post is to make the process as easy as possible. If you're not too sure about what you want to do at school just yet, don't panic! There's no rush to apply for university as soon as you finish school. Follow your passions and take your time before applying. When it comes time to make the leap, you'll know the steps to take.