A Team Tuition Signs Partnership With The Australian Boarding Schools Association
The partnership shifting the perspectives of boarding pioneers through academic programs.
At A Team Tuition, we envision a holistic method when it comes to student transformations. For boarding school students, this holistic approach is pertinent in order to provide tailored support to suit the needs of newly independent students. When we were approached by The Southport School (TSS) in 2017 about ways in which we can adopt our personalised service to assist a group of boys in boarding, we came to the realisation that there is an evident gap between boarding youth and the traditional structure of boarding learning.
Since then, we have expanded our service through our recent partnership with the Australian Boarding School's Association to establish boarding transition programs in not only TSS, but also Ipswich Girl's Grammar School and St Joseph's Nudgee College Brisbane, targeting around 150 boarding students from Years 7-12.
The Struggles of Boarding School Students
Boarding school students are inherently more likely to experience a more turbulent educational experience. With the primary demographic of boarding school students being located from rural, remote and regional Australia, most boarding students have had minimal exposure to classroom environments prior to making the move. These students have developed their educational abilities via distance education with limited face-to-face interactions. With an absence of integrated learning, these students tend to struggle even more with the technologically advanced construction of well-established schools and how learning has evolved beyond pen and paper. Thus, the sharp transition from independent learning into communal living and study may potentially detriment the learning experience of these students if their prior education engagements are not addressed or recognised in the process.
Executive Director of ABSA, Richard Stokes, has found through his role that "one of the things our boarders have to do is become independent very quickly. Some students are good at that, and some aren't. Independence is one of the challenges that every boarder must face."
General Manager of ABSA, Thomas Dunsmore reiterates this viewpoint and acknowledges that it's quite easy to distinguish day students from boarding students based on the way these students interact within groups. Accordingly, for some students, the rigid structure of quiet communal study does not match their former learning methods, requiring students to essentially re-find an effective way to learn without the guidance of their parents.
Click Here to find a boarding school tutor
The A Team Difference
What differentiates our approach from traditional study programs is our emphasis on identifying the hurdles that boarding students must overcome and formulating an appropriate academic strategy to suit their educational needs while providing an element of mentorship. Each and every one of our boarding transition programs has been tailored to align with the values of the school, their boarding houses and the needs of each boarding student. We then integrate our personal touches into the program by breaking students into groups based on their learning languages, current grades or behavioural traits. Our School Programs Coordinator and Current Program Convenor for TSS, Matthew Judkins has assisted the Program Convenors in ensuring this is prominent across the board.
"We work with each school to form groups of students to maximise productivity while minimising distractions and behavioural issues. To do this, we consider the APT's evaluation of each student's behaviour, the school's statistics on behaviour, diligence and grades, as well as the school's understanding of each student's social circle and behaviour. Ultimately, each program is tailored to the needs and expectations of each school to achieve our long-term goal of self-directed learning," states Matt.
"We recognise that these programs cannot be generalised and implemented in a formulaic way. Although the certain key elements of content assistance and academic strategy features in all programs, each program is distinctive from the other in both form and substance. We are working with, and must therefore accommodate for, young men and women from 12 to 18 years old with different backgrounds, family circumstances, cultures, learning methods, strengths and weaknesses."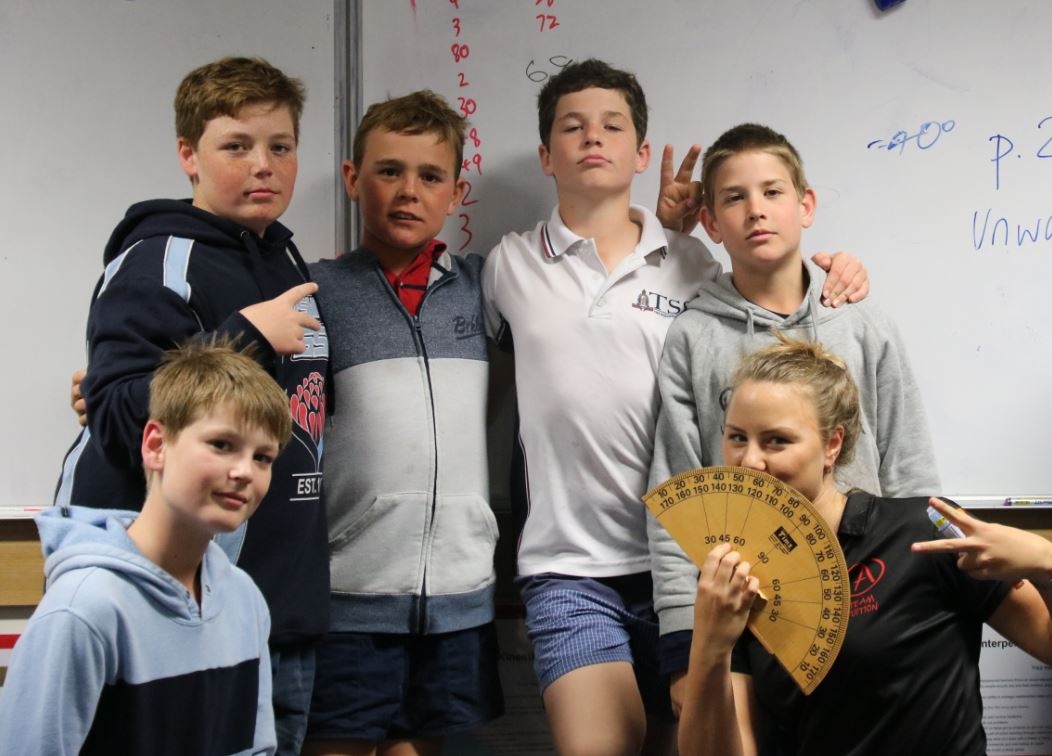 Our first boarding transition program at TSS, has seen students in Years 7 and 8 flourish as a result of this personalisation. Former TSS Program Convenor, Brittany McEvoy, recognised that a bunch of rowdy boys are unlikely to learn effectively through rote learning, or silent study and instead, she incorporated physical activities centred around English, Maths and Science in the form of weekly challenges into the program.
"One week the boys had to complete a certain number of questions and get the correct answer to have a shot at throwing paper into a bin with a 1 metre radius. Another challenge required the boys to figure out the right amount of water to pour into a bottle to be able to successfully bottle-flip it on four different surfaces," recalls Brittany.
Whilst these activities allowed the boys to jump up on their feet and have a little bit of fun, they were also learning how to calculate the perimeter, circumference, volume and area of shapes! One of the most distinct features of the TSS program is the rewards' system designed by the accumulative efforts of the 11 Academic Personal Trainers running the program. Noting that these boys are at the start of their high school journey, they're still on the cusp of transitioning out of rewards that you'd typically receive in primary school. The rewards' system was created to encourage their learning, but to provide them with rewards that will ultimately accumulate over time to praise continuous hard work as opposed to single flows of effort.
The second of our programs at Ipswich Girl's Grammar School consists of students from Year 8 all the way to Year 12. The obvious distinguishing factor between this program and TSS, is working with a group of girls as opposed to boys. In addition to this, subjects expand beyond Maths, English and Science to include humanities and business. Due to the fact that a large portion of the students are in their senior years of schooling, the sessions are more "content heavy" with less time for fun activities during the weeks of assessment. The St Joseph's Nudgee College Brisbane follows the same lines as IGGS
Envisioning the Future of Boarding
Being a part of a program that's transforming the lives of boarding students has really shaped our perspective on how academic programs leave a lasting impact when personalised. When talking with many of the Academic Personal Trainers from these programs, they have found the programs to not only have a lasting effect on the students, but also on themselves. APT Keelan Hood found the most rewarding part of the TSS program to be "seeing the boys grow and becoming more confident in themselves. Being by their side knowing that I'm making a difference to their lives is very satisfying. Most of these boys don't see their parents for months on end so I consider myself the big brother that they never had." Brodie Chong, the Convener at Ipswich's Girls Grammar School considers being part of the program to be "the most intrinsically rewarding experience" by "creating genuine connections with the students while watching them fulfil their academic potential is very rewarding."
When sitting down with Richard Stokes and discussing the academic programs within the various boarding colleges, he revealed that he envisions a focus on academic strategy will be the solution to lifting academic support within boarding houses. Boarding has become almost the forgotten sibling of schools and as a system designed to provide added support on top of content that has been delivered in ordinary schooling, the goal is for this perception to be altered.
"We have a very strong strategic plan particularly over the next 3 years to make sure that we become the go-to body when it comes to boarding, and this certainly involves A Team's program. We want to place academic standards at the forefront and develop systems to certify and show how the boarding programs are doing well."
For A Team Tuition, we want to be able to provide this level of support beyond our pre-established programs to be able to teach students not only the secrets to academic success, but to maximise their potential in all aspects of life. We're hoping that our formalised partnership with ABSA will allow us to continue the streams of success throughout boarding in Australia.
Find out more about our partnership with the Australian Boarding School Association