AUSTRALIAN BOARDING SCHOOLS
We Believe That Any Student, Anywhere Can Achieve "A" Grades With
The Right Support, Strategies and Mindset
As proud partners of the Australian Boarding Schools Association, we provide customised, student focused tutoring during 'boarding prep' hours.  Our energetic tutors engage your boarders in active learning, creating a mindset and cultural change, not just "two more hours of school".
We must warn you – your students may ACTUALLY ENJOY boarding prep!
Our boarding school tutoring service is an Australian first
Our boarding school tutoring service is unlike anything ever seen before in Australian boarding schools. We step in to provide the support and motivation formerly provided by parents. The right support is a key pillar of a child's success. Parents choose boarding schools for an enhanced and superior educational experience for their children. We partner with the schools to deliver on that promise.
We "get" your challenges
We work closely with school principals every day and we are the only tutoring partner of the Australian Boarding School Association (ABSA).  We work closely with ABSA and our schools to understand the challenges of boarding and deliver proven solutions.
Your boarders' wellbeing and academic achievements are your top priority.
Your school provides an essential service to families across Australia, and the world. You rise to this responsibility despite the challenges.
Boarder prep hours can be challenging to staff consistently.
Boarder prep hours can be unpopular with students.
Despite your unwavering commitment to boarder prep, you know that your students could be getting more from this precious time.
 Your school provides exemplary service to all of your students and as your partner, we assist in transforming your prep time through our proven Creating 'A' Students Framework of mindset, strategy and support.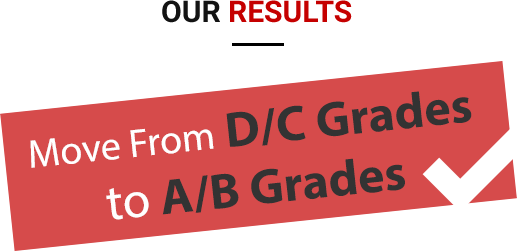 Our solutions are tailor-made for your school and students
The first step is for us to consult with you on your school's priorities. When you work with our team we provide a full strategy for improving boarder grades, confidence and student engagement. We'll help you to overcome staffing issues and lighten your load, your teachers' load and most importantly the administration load. We don't just deliver improved grades, we deliver improved experiences for schools and students.
Our boarder prep service
Depending on your needs, we can provide:
Multiple tutors across multiple subjects to work one-on-one or in small groups.
Act as liaisons between teachers, parents, students and the school to ensure children have a coherent support network.
Provide individual study strategies for students based on teacher recommendations.
Support teachers with specific tasks and exam preparation – including areas of difficulty for individual students.
Provide full supervision of boarder prep, freeing up teachers to focus on lesson planning and curriculum development.
Monitor the mindset of individual students and generate specific study strategies to overcome any issues.
Mentor and coach children struggling with academic or emotional challenges.
Assist your school in monitoring the wellbeing of all boarders. Enhancing your reputation as a safe and supportive home for young learners.
Our partnership with your school
Safe.  Supportive. Solution oriented. The same promise we make to students and parents, we make to our partner schools.
Your school's reputation is safe with us. Our tutor screening, recruitment and training programs are world class and every member of our team is committed to enhancing your school's reputation.
Our team acts as an extension of yours. Our close partnership will ease the burden on your staff. We aim to provide a seamless service that "just clicks" with your school's systems and culture.
Like our strategic approach to study for your students, your outcomes are vital. Higher achievements amongst your student body means higher demand for your school.  Our program not only provides proven academic results but demonstrates to prospective parents that your school goes the extra mile. As some states transition to new university entrance standards, and overcomes all those issues boarders face right now, we're on hand to provide solutions to the ever-changing bevvy of educational challenges. 
Couldn't you do with a hand right now?
We're ready to partner with you to provide a superior boarding school experience.
WHAT OUR CLIENTELE HAVE TO SAY
Angus and Maria Cowan - Parents
In our experience, what we have found is the A-Team are prepared to be flexible (they really do look to provide the right tutor to the student) and are genuinely committed. A-Team are able to mentor and develop other key forms of aptitude, including emotional and social forms of intelligence.

Katrina – Mother
His tutor had instant rapport with him and was able to get him to open up about things we had no idea on (despite asking what we thought were the right questions!). Our son's teacher has already mentioned how much more focused he is and that his attention to detail is improving. We are really very impressed with A Team Tuition.

Lucy - Senior School Teacher
Their unique approach to helping students feel confident in their preparation for exams, assessments and increasing their literacy and numeracy skills, sets them up for success, no matter their hesitations. It is so important, especially within this generation, to find ways to keep students engaged in the learning process.

Collette - Mother
The word "Proud" doesn't even come close to expressing how we felt last night at our daughter's Awards Ceremony. The studying structure and skills she has developed since starting with the program has been invaluable.

Jason – Former School Principal
Their approach to working with young people as extremely professional and very much focused on the individual needs and circumstances of each child. A Team is focused on delivering the best possible outcomes to all students irrespective of their academic ability and are well versed in supporting children within the Out Of Home Care sector.

Skylah – Year 9 Student
A Team came to me and in just less than a term working with them I received an A for maths (the subject I struggled most with!) I definitely recommend A Team Tuition, this great, supportive team will help you succeed!

Sharon – Mother
Alongside greatly encouraging improvement in his academic results, the most outstanding and important outcome has been enhancement of his self-motivation and drive, and even more importantly, development of his self-confidence.

Mae – Year 12 Student
A Team Tuition has helped me develop into the best student that I can be. I am now reaching my full potential thanks to them. They are so supportive and really understanding. All the staff at A Team Tuition really are passionate and so friendly.

Michael - Father
Not only do the team at A-Team improve grades, they also focus on the underlying skills and qualities of character required to continue on the right path in life. START MY CHILD'S TRANSFORMATION TODAY!
Whether you need help with homework, assignment & exam preparation or just a confidence and motivation boost at school – we can help!
Tell us about your child and we will get in touch as soon as possible!