ATAR for Dentistry in South Australia
South Australia, and more specifically Adelaide, has a number of pathways that you can take in order to become a fully qualified dentist or dental surgeon. This is a competitive field; however, it is not impossible to find a place with the right amount of preparation, stellar study skills, aptitude and resilience. 
Not in South Australia? See other states
entry requirements
for a Bachelor of Dentistry.
The Course of Study
You will be required to undertake five years of a degree in dentistry that has been approved by the General Dental Council. This is then followed by a number of years of postgraduate dental training. You'll be asked to undertake the University Clinical Aptitude Test (BioMedical Admissions Test) prior to beginning your course of study. You will, obviously, need to meet the ATAR requirements prior to commencement. All in all, you are looking at a significant commitment of time, and the expectations of this degree are incredibly high. This is a popular, competitive area of study that demands a lot of its students.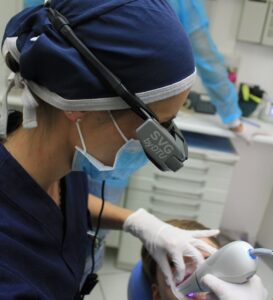 The ATAR requirement for the University of Adelaide's dentistry course is 90 or above. This means that you have to outrank 90% of your peers at the bare minimum. If you have studied the International Baccalaureate, you will need to have scored 33 or above. This is not as high as in other states where the competition is more fierce but still high enough to require dedicated study in year 11 and 12. Many, many students (just like you or your child) have employed the help of professional, one-on-one tutors to help them gain that competitive edge required for entry to this field. Tuition is all about creating an environment for success at any level. Your tutors will be able to prepare you for summative (and formative) assessment items, help fine-tune your study habits and work with you to understand the pressure-cooker environment you are entering into whilst being able to maintain your composure and not give in to stress and anxiety.  
SACE prerequisite subjects (that you should be studying in school to prepare you) are chemistry, physics, biology and mathematics. You will also need to pass English. You will receive advice along these lines from your future pathways coordinator.  
Are you concerned that your child won't be able to meet the high academic requirements they need to become a dentist in South Australia?
Book an ATAR tutor today
.
Where Can I Study?
The University of Adelaide is the preferred option when it comes to the study of dentistry and dental science. It is not offered at the University of South Australia. With a smaller number of course places available, the high ATAR requirement makes sense.   
University of Adelaide
The University of Adelaide has a long history of offering students a world class education on a beautiful, prestigious campus. As previously mentioned, the ATAR requirement for study here is 90+.  
The Bachelor of Dental Surgery offers full time study at the North Terrace Campus. Here you will find tuition under dedicated, professional and specialist teachers. Practical placements (both regional and local) will be assigned to you via the university. You will begin your clinical experience almost immediately via study in a teaching hospital – the Adelaide Health and Medical Sciences building. You will be invited to explore the complete range of dental therapies as you use equipment in a Dental Simulation Clinic.  
You could also differentiate your study pathway and commit to the Bachelor of Oral Health at the same institution. This is a three-year course of study.  
ATAR
S
core 
C
alculation
ATAR scores in South Australia are perfectly aligned with those in other states. It is a tricky combination of SAC results for assessments and examinations and study scores as well as subject scaling. Study scores are out of 50 for each subject – the lofty goal of so many students! Work closely with your Pathways coordinator to ensure that you are up to date on accurate information pertaining to ATAR requirements – particularly as they change from year to year.  
Sinking Your Teeth Into
That Perfect Result
A Team Tuition are primed and at the ready to help you on your pathway to dentistry studies. It's never too late (or too early) to get the right team on your side.