Year 12 Student, Harriet, went from 54% to 95% in Maths Methods in One Year!
What a difference a year can make! Just 12 months ago, Year 12 student Harriet was at a crossroads with her schooling. She had just received the results of her Year 11 final exams, and they were a fair way off where she was hoping they'd be, particularly her Maths Methods. Harriett had scored 54% and she was being encouraged by her teacher to consider switching down to Maths General for her final year. Harriett knew within herself that she was capable of doing the Methods course, all she needed was the right support and guidance. That's when Harriett and her family reached out to A Team Tuition for help.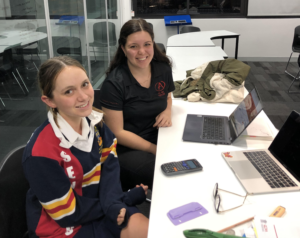 Like many students new to tutoring, Harriett was at first a little apprehensive, and wasn't quite sure what to expect. She was worried that it would just be like having an extra class outside of school time, and that it would "feel like a chore". When Harriet began working with Tiahna, one of A Team's Gold Coast-based Academic Personal Trainers, however, she was pleasantly surprised to find the experience was the opposite of what she expected. 
"Working with Tiahna has been great," says Harriet. "I am able to get a lot of work done during our sessions together, without it feeling intense or stressful. It's also really reassuring to know that I am going to get through my work, especially having Tiahna there to help explain things that I don't get in a way that I can easily understand."
Not only has working with Tiahna provided Harriett with structure and consistency regarding her studies, it has also given her the confidence to back her abilities and achieve what she knew deep down she was capable of.
"I could tell straight away that Harriett was a bright student," explains Tiahna. "Her biggest struggle was that she was second guessing herself when answering questions in exams, which I think stemmed from a combination of not completing enough practice questions, and her confidence in her own ability."
Drawing on her observations and her own experience, Tiahna and Harriett worked together to create a plan that was specifically designed to address Harriett's particular problem areas, including working through an extensive set of practice exam questions, and even working ahead of the content in class! 
Ultimately, Harriett's work with Tiahna has allowed her to recapture her confidence and get back on the front foot with her Maths. After only just passing at the end of Year 11, Harriett is now scoring 95% in Maths Methods, a truly dramatic transformation! As she prepares to face her final exams in a few months time, Harriett's revitalised approach to her Maths has her primed to achieve what she is truly capable of.