Giving Your Child the Opportunity
to Succeed in School
WHY our private tutors CARE
Our vision is to provide every student the opportunity to succeed in school through educating them in the most effective way for them to learn. Our tutors believe that any student can succeed academically with the right mindset, strategies, and support. Find a tutor who cares. Our private tutors are experts on the path to success in school and we know that your child can succeed too.
Our private tutors, backed by our whole team, partner with you, your school and your child to give them the best possible chance of success. Helping your child reach their full academic potential isn't just about getting a place in the course they dream about, it's about building their confidence and knowing that they can achieve their goals. That's a powerful feeling and one that they'll benefit from for life.
Find a tutor who'll empower your CHILD to SUCCEED
The Secrets to Academic Success (STAR) Program
In order to transform your child's grades, confidence, and motivation, we focus on educating them on the three core pillars of success in school: Growth Mindset, Academic Support and Academic Strategy. It is when your child begins to understand and apply these three concepts alongside their Academic Personal Trainer, you will see your child's grades, confidence, and motivation transform.
The 'Secrets to Academic Revealed' (STAR) Program was carefully developed with child psychologists, teachers, university professors, and academics to deliver better academic results. The program is designed to work with your child to ensure that they understand exactly what they need to do to be successful. It is both theoretical and practical, and the nine modules allow students to learn the skills of an 'A' student while completing their own classwork. A Team Tuition isn't like other tutoring companies, find out how our private tutors get such remarkable results.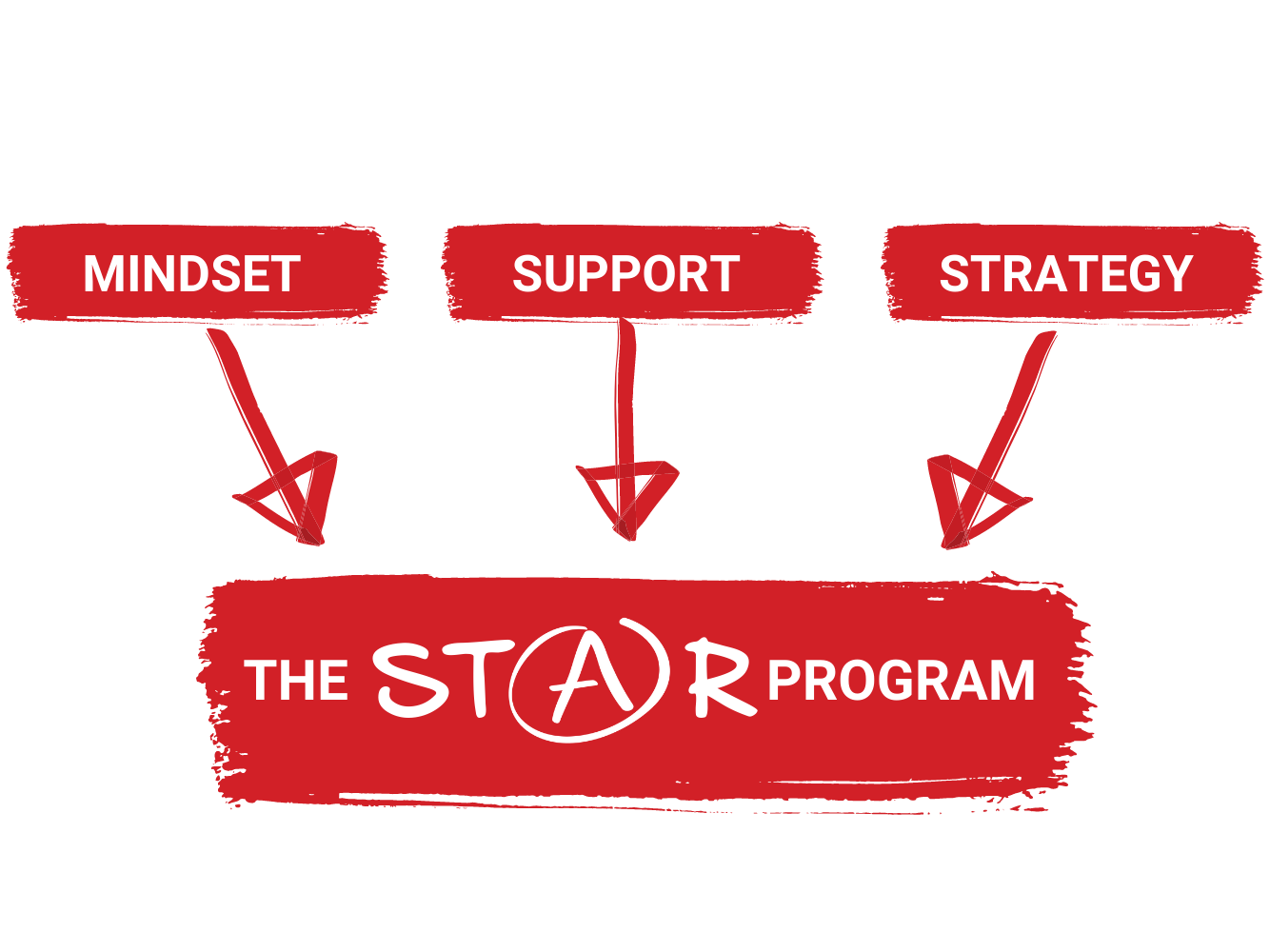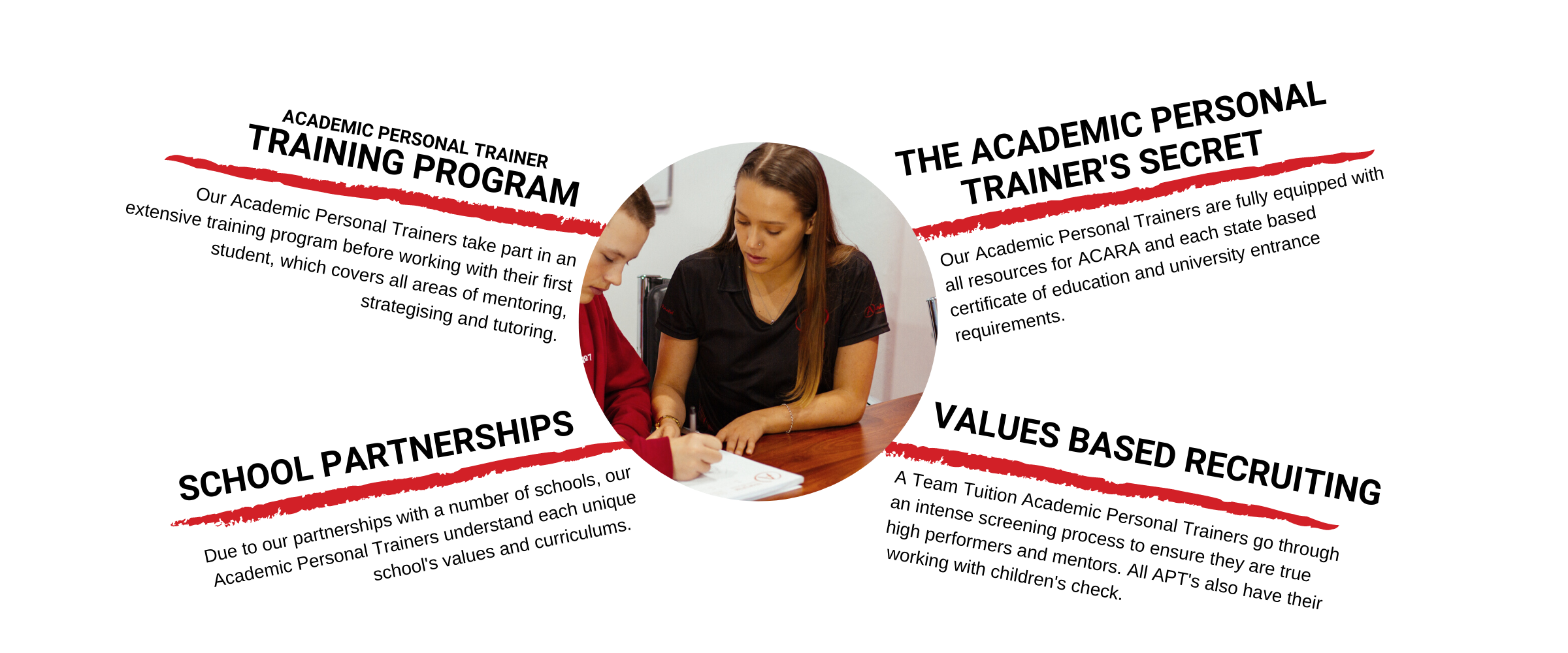 Your Academic Personal Trainer
At A Team Tuition, we refer to our tutors as Academic Personal Trainers. Why? Because we don't just teach the Australian Curriculum but work to improve your child's mindset, support, and strategy. Find a tutor that helps your child learn, not just study.
Helping your child CREATE STUDY STRATEGIES THAT WORK
One-on-one tutoring, in person or online, allows your child to create a connection with their Academic Personal Trainer. We offer all subjects across all year levels in all state curriculums. Find a tutor that comes to you, with fully personalised, one-on-one private tutoring for children of all ages.
87% of our students achieve
A/B GRADES
95% of our students have a significant increase in
MOTIVATION TOWARDS STUDY AND SCHOOL
86% of our students have a significant increase in
CONFIDENCE TOWARDS SCHOOL
A TEAM TUITION HAS BEEN FEATURED ON
... What Our Clients Have To Say ...
Alongside greatly encouraging improvement in his academic results, the most outstanding and important outcome has been enhancement of his self-motivation and drive, and even more importantly, development of his self-confidence.
Sharon – Mother
I share my deep gratitude to your team. Our son Hudson is flourishing! His step is lighter, he laughs, and his confidence within himself is growing. This is all because of Mitch! Mitch has built a safe learning relationship and Hudson is thriving! Thank you!
Hudson thinks Mitch is a Legend! We are so grateful to Mitch, your team and so happy for Hudson.
Kellie – Year 8 Mum
"Archie's tutor, Amber, was well organised, communicated clearly and took the time to get to know Archie through the session. Arch is looking forward to his next session with Amber."
Simon – Year 5 Dad
Before Belle's first tutoring session she was a little anxious and kept asking me "what will I ask her?"…."what will she do?". After their first session, Belle is upbeat, positive, calmer and feels Jessica is a perfect match for her saying, "she's just like me". Thank you so much for making the effort to match tutors based on personalities; it makes all the difference.
Tracey – Year 11 Mum
"Everyone comments on her confidence."
"Cecelia has never passed English before so we're really celebrating this C. The teacher said that she's on course for a B this term and everyone, her teacher, her teacher's aide and her reading group leader – they've all said she's far more confident, putting her opinion out there, and finally feeling brave enough to read out loud. This has been a big celebration in our house."
Lizzy Edwards, Mother to Cecelia, Aged 11