Which Creative Career Is Right for Me? 11 Jobs in the Creative Arts Industry
If you love doing creative arts subjects at school, there are so many career options you can explore! Pursuing a career in the creative arts after high school can be such a diverse and rewarding career path, but not everyone wants to be an actor, a dancer or an artist! If you love the creative arts and are doing subjects like drama, dance, film & tv, music or art, here are some other career options you may never have heard of before that you could pursue after school.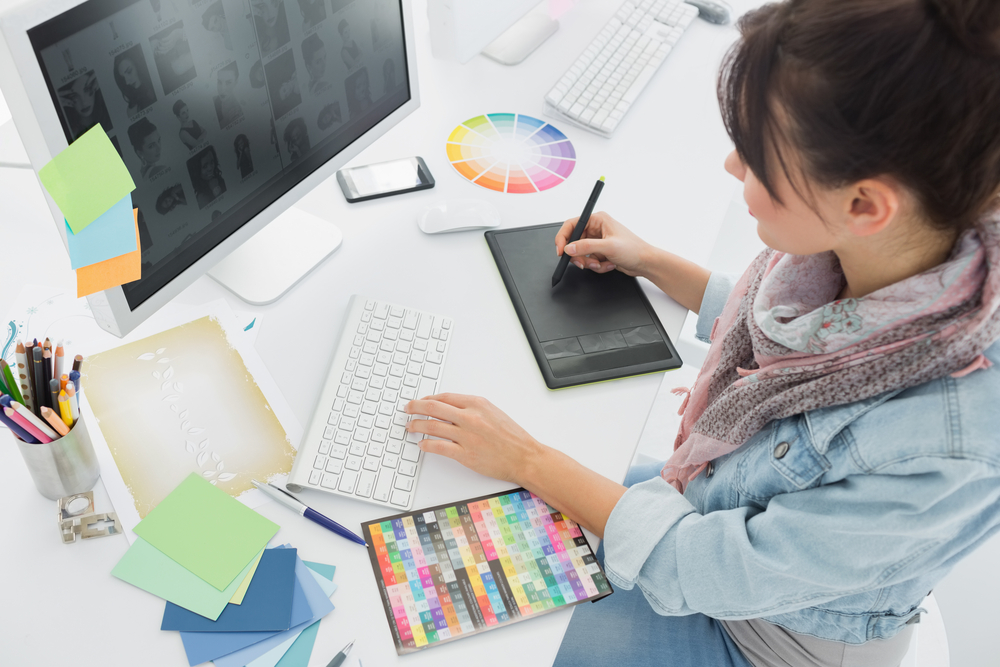 What Type of Jobs Are in The Creative Arts
Stage Manager
A stage manager organises the day to day running of a theatre company. They make sure the whole production from inception to the final performance runs smoothly by working with people such as the director, choreographer, composer, lighting designer and costume designer, bringing all the different elements together to ensure the show runs smoothly. If you have done drama but on but wanted to be more involved with the backstage running of the production, this may be the career for you. Studying a Bachelor of Fine Arts in drama or acting, Bachelor of Theatre or a Bachelor of Creative Arts are university pathways for this career.
Music Business Manager
A music business manager is someone who represents artists and musicians and focuses on the financial side of things. They will work with advertising, negotiating contracts, how to collect royalties and how to invest and collect their money. If you like doing music as a subject, don't want to be a musician but still be involved in the industry, this may be the career for you. There are very few music business degrees, but a Bachelor of Business can also help you get into a career in music business management, especially if you do a minor or take classes in music or arts!
Sound Technician
A sound technician sets up, tests and operates equipment for the specific area such as tv or radio production. Sound technicians are employed by tv studios, radio stations, film production companies, concert venues, theatre companies, sound recording studios and some work freelance. This is a great career for anyone who loves music or the audio and sound element of film & tv subjects. Suggested university degrees such as Bachelor or other degree in Audio or Audio Production or a Bachelor of Creative Industries are University pathways that can help kickstart a career as a sound technician.
Production Assistant
A production assistant works on film or tv sets and completes a very wide variety of tasks such as discussing with the director how a scene should be shot, setting up props on set, calling out when filming, inputting computer data, completing errands for any person in the production team and working with extras or actors.  If you love film subjects at school, this may be a career for you! This is a position that there is no formal study needed, but a degree in Film and TV or a general Arts degree can help you get into this field. There is also tons of room for growth in this role to move on to being a producer or director!
Graphic Designer
A graphic designer communicates concepts through images, words or other types of graphics to build visuals that can be used in advertising or promotions. Their goal is to make the brand recognizable and memorable; this can also include collaboration with other creative professionals such as other artists and animators. For someone that does visual art and loves creating but can also work well with creative computer technologies, this would be a great career. Specific degrees such as Bachelor of Graphic Design, Media Design and Digital Media Design or a Bachelor of Fine arts, majoring in graphic design can launch graduates into this type of career.
Community Arts Worker
An arts educator identifies aspirations, gaps or areas of need in a community, through consultation and discussion. They then design strategies to facilitate and encourage community arts projects, events and activities to improve the community cultural value. Community arts workers can be for any area of the arts, there can be visual arts projects such as a town mural, as well as theatre projects for youth or music concerts. A university degree or extensive experience in your specialist field of arts is necessary for this role, although a degree in Community Services would also be helpful.
Arts Educator
Arts educators operate in museums or art galleries, educating the public on the types of works in the gallery or art in general. They can run classes or workshops for many different groups of people, from beginners to advanced and kids to adults. This is a great career for someone who loves visual arts and wants to educate others but not necessarily in a school setting. A Bachelor of Arts, Creative Arts or Fine Arts majoring or specialising in anything is a university degree to get into this career.
Production Manager
A production manager is one of the most important people on a film or tv set. They are in charge of budgets, hiring of crew, finding location, shooting schedules and management of day-to-day life on a production. This career would suit someone who enjoyed doing film & tv subjects. There are many university courses such as a Bachelor of Arts, Bachelor of Communications, Bachelor of Media Studies or a Bachelor of Acting or Theatre, that can help get you into a career in this area but they aren't totally necessary for a career in production management.
Teacher
Teachers share their love of their chosen creative art with students in a school setting. As you know (being in school) these teachers can inspire, support and encourage students. There are teachers for early childhood, primary or secondary across all of the arts, including drama, visual art, dance, music and film & tv. Doing degrees such as Bachelor of Education or a double degree with a Bachelor of Arts or Creative Arts and Bachelor of Education are the beginning of a pathway to this career.
Set Designer
A set designer takes the vison of a director or a script from a writer and turns it into a set for a live theatre piece, a tv show or a movie. They research, design and supervise the construction of sets and scenery. They work with artists of all kinds to turn this vision into a reality. If you love doing large scale art works in Visual art at school, this could be a career for you! Having a degree in Fine or Creative Arts or Bachelor of Design can help you get into this career.
Marketing Officer
There are many different roles within a marketing team but generally they develop a company or brand image, build marketing materials and identify and analyse an organisations strengths and weaknesses to develop marketing strategies. They also make decisions about specific products for example the pricing, labels, distribution and advertising. This career combines the creativity of the visual art with the people skills developed in drama, if you love either of these subjects, this may be a great career for you. A Bachelor of Business, Commerce, Business Administration, Marketing or Communication are great degrees to help you get started in the marketing industry.
There are so many different options if you love doing creative arts. Here at A Team, we can help you get the marks you find the creative career that is right for you. Your academic personal trainer will work with you to set goals and figure out the path that is needed to get you where you want to be!