How Townsville Grammar Boarders Surpassed Academic Goals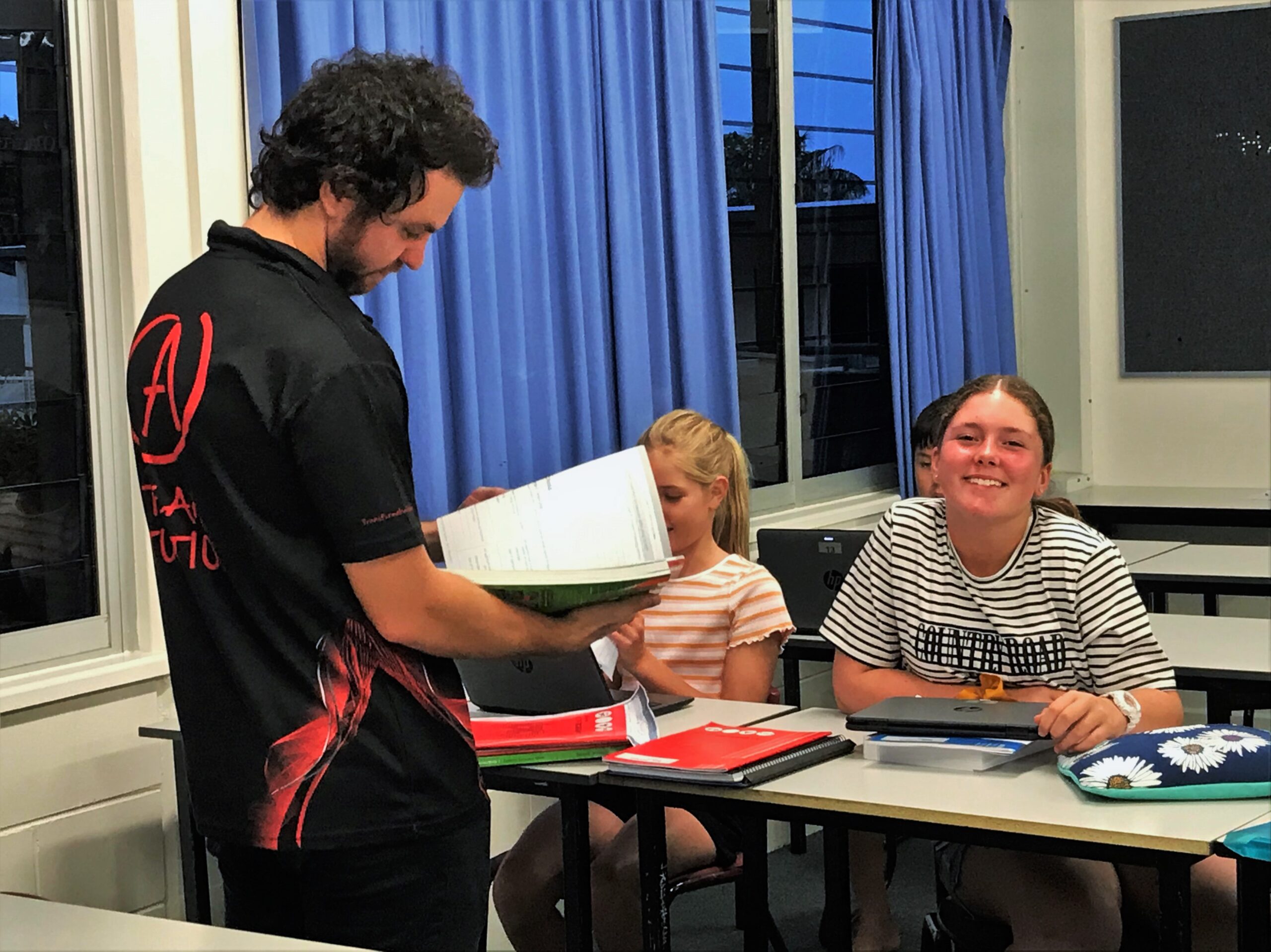 Set on 6.5 seaside hectares at the base of Castle Hill, Townsville Grammar School is the oldest boarding school in North Queensland. Since 1888, they have provided an experience that helps boarders to develop into young people of character by focusing on structure, routines, expectations of personal behaviour and building resilience. 
While working with the Director of Boarding, Jaye Beutel, over the past few years, we have been able to see the true benefits of developing student diligence and mindset. TGS recognises that developing skills and strategies to be successful are crucial when helping students meet their academic goals. This happens over the course of the student's journey, not just in school, but in the boarding house and during prep time.
Jaye and the boarding staff at Townsville Grammar School saw the opportunity to improve grades and diligence of lower to middle level students, and made that one of their priorities in 2021. Jaye explains that TGS "prides themselves on academic achievement, and to give our students every opportunity to meet their academic potential, we need to align themselves with programs that set our students up for success." 
The staff analysed their current situation, recognising one challenge was working students who come to the school with such a wide variety of educational experiences. Jaye explains that "many of these students are young learners that have not been in a traditional classroom. They have not had to apply themselves to the rigorous standards of an academic environment and be successful". This transition into boarding life is crucial to success. 
One way to ease this transition and develop boarding students' diligence and grades was by providing all TGS Boarders in Years 7-9 with an Academic Framework and Strategy. Jaye had previously worked with A Team Tuition and our Academic Personal Trainers on the Boarder Advantage Program at The Southport School and he realised that "if it worked for regional students at TSS, it could have a huge impact at Townsville Grammar School". Along with working at other schools, A Team Tuition is the only academic tutoring provider for ABSA, meaning that the advantage program is built for boarders. 
We met with Jaye and tailored the A Team Tuition Boarder Advantage Program to the School's goals and curriculum. For TGS, the plan included providing academic strategy and tutoring sessions to Year 7 – 9 boarders during prep time. We target the Year 7 to 9 students because this is the period they need to learn to manage their schooling. It is the perfect opportunity to develop the habits required for the rest of their schooling before the work load increases. Jaye requested the program be delivered in a way that is formalised but also highly relational so that "the tutor can be focused on academic encouragement, while our staff can be focused on the emotional setting of the boarders. It becomes personal and highly relational. Everyone has their own specific roles in the boarding house, which helps with the student-boarding relationship".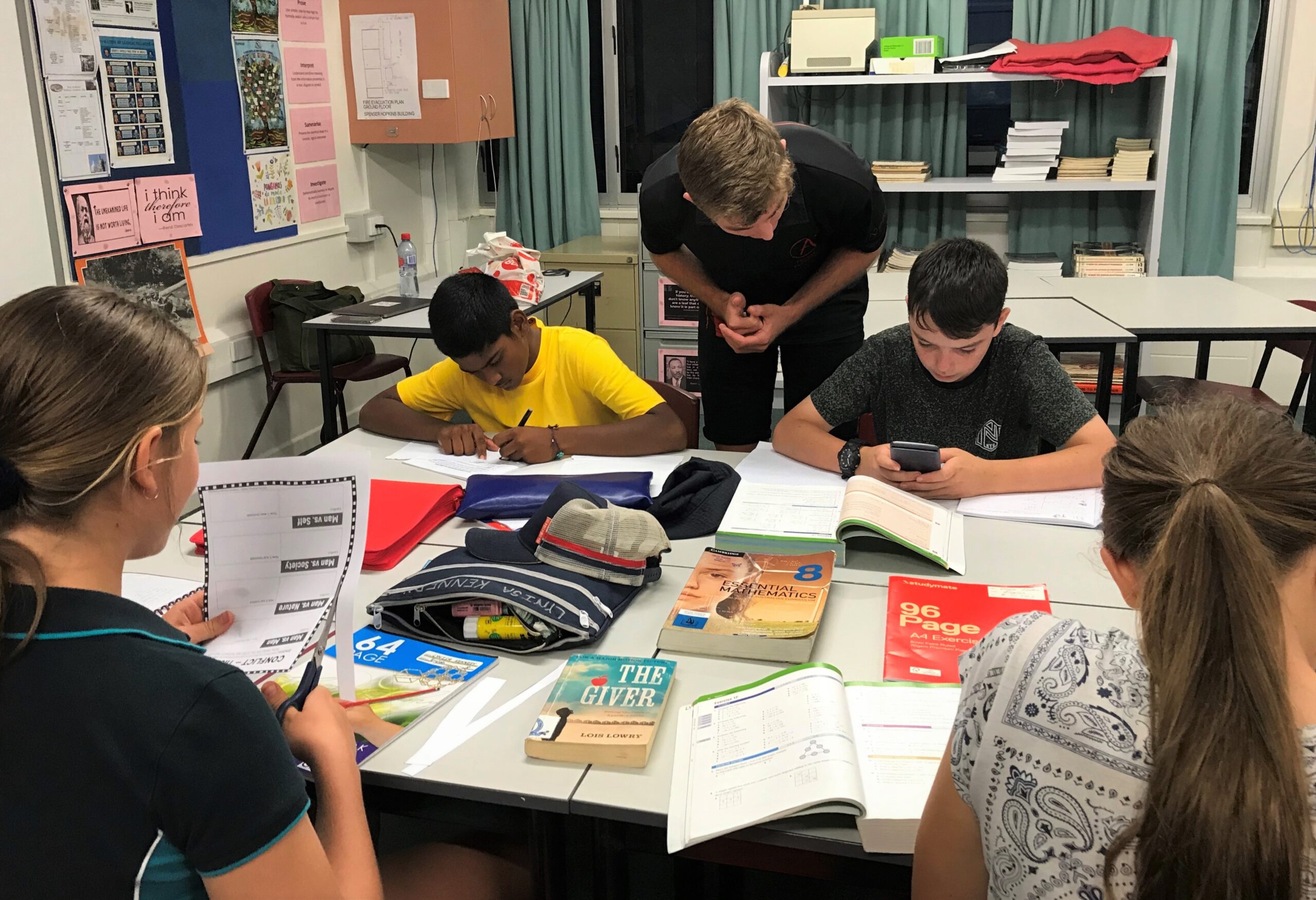 Jaye iterates that "the program has a clear purpose that is defined by TGS and it's not just sitting down and helping students with homework". The sessions give boarders the opportunity to build and apply skills that help in the classroom. Not only are the Academic Personal Trainers experts on the curriculum, they employ a teachable moments program to coach and mentor students. Teachable moments are times when the student shows signs that they are needing or ready to learn crucial skills. This can be anything, including study strategies, organisation or personal development. By identifying and acting on teachable moments, Academic Personal Trainers are able to transfer their skills to students and help them become better equipped learners.
In order to ensure we were meeting the School's goals, student results and data was heavily tracked throughout the year. While working with the TGS students, our Academic Personal Trainers keep track of key data points including their attendance, session focus, and rating each student's engagement and confidence level. These data points are aligned to the Taxonomy of Educational Objectives by Robert Marzano, off which our model is based, and the same education model used in schools Australia-wide. The first layer of getting a student to succeed is giving them the tools and motivation to want to succeed and feel they need to succeed. These data points are the first indicators that we are on track to high academic performance. 
TGS has a very similar outlook on student performance. Jaye explains that "the focus has now been shifted from student's levels of achievement to who is working hard, and recognising them for their work. Students are scored in class on their diligence, and many boarding activities use diligence as a source of encouragement. This includes special awards and the Diligence Cup, which is awarded each term to the leading house for their average diligence score from in classes.
To coincide with TGS tracking student diligence and grades, Jaye was able to compare his results to the quarterly report we provide that demonstrates evidence of consistent mindset, strategy and support progress. The data and tracking allowed Jaye to see the clear transformation across the Year 7 – 9 boarding students, as you can see below: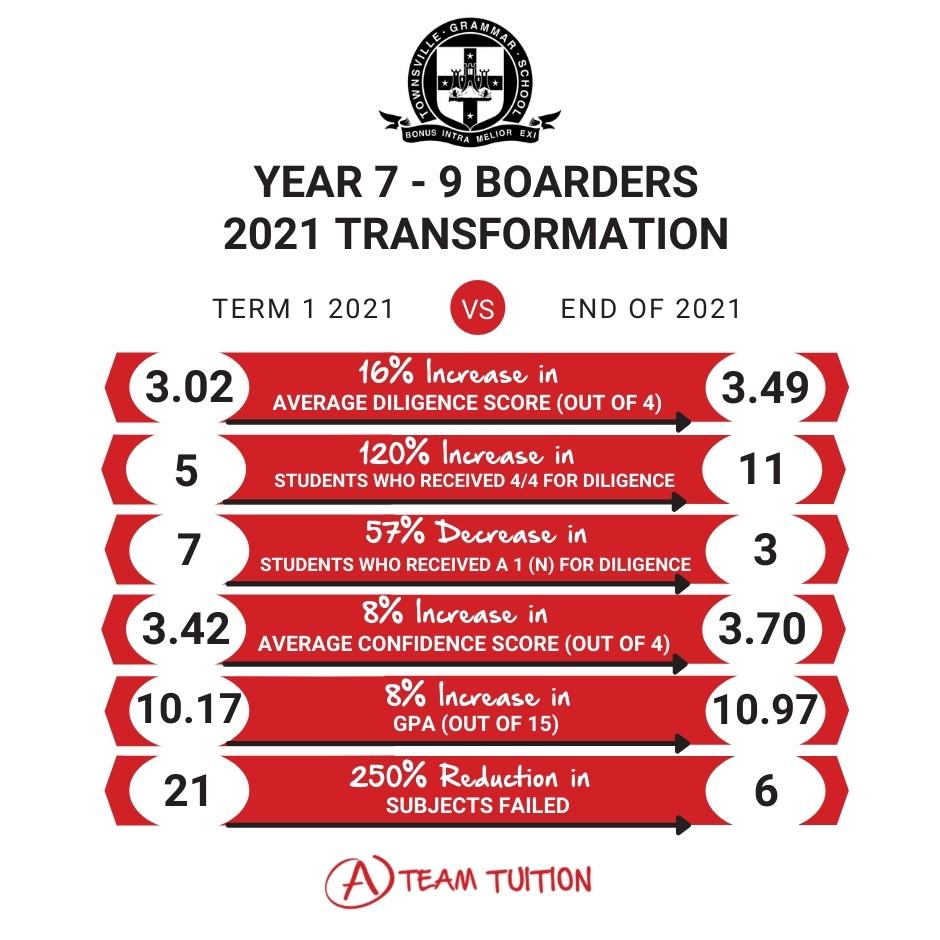 While working to improve the grades and diligence for Year 7 – 9 boarders, Jaye found that giving students an academic framework and strategy gave them the motivation and tools to succeed in school. With the commitment and dedication of both A Team Academic Personal Trainers and the TGS staff, we were able to develop and evolve a strategy and be reactive to students' needs. For example, if a student seemed to be trending downhill with confidence or engagement, there was an opportunity to jump in before it was too late. Jaye's dedication to the program and keeping track of students performance outside of sessions made it apparent that when a student's confidence and engagement increase through the program, so does their motivation to apply the strategies they are learning in the classroom and, in turn, get better academic results.