15 Educational Board Games for Primary School Students
Board games are some of the oldest forms of entertainment in the world. For a lot of people, board games are just seen as entertainment or distractions. However, board games have helped millions of children develop great educational skills like critical thinking, problem-solving, addition, and subtraction.
Learn about 15 educational board games that your child will love!
Educational Benefits of Board Games
There are many educational benefits of board games for primary school students. Here are some skills that children develop when playing educational board games:
Basic Mathematical Operations

– Educational maths board games help children count, add, and subtract.

Logic

– Developing logic with board games improves children's curiosity and critical thinking skills.

Planning and Strategy

– Some educational board games require your child to plan to win. Your child can even develop patience along with these two skills.
Educational maths apps are a great alternative to board games so your child can learn while they use up their screen time. 
Top 15 Educational Board Games Your Child Will Love

Here are 15 of the best educational board games available:
1. Sequence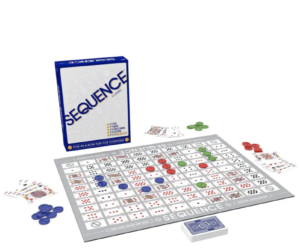 Age Range – 7+
The objective of Sequence is to get five chips in a row from cards in your hand. This game is excellent for developing logic and strategy, which are great skills to master.
Skills: 
2. Clue
Age Range – 6+
Also known as Cluedo in Australia, this educational board game involves moving around the board to collect clues. Players take turns rolling dice to move around the board. Logical deduction is needed to solve the case. Whoever solves the case first wins1.
Skills: 
Deductive reasoning

Strategy 

Logic
3. Boggle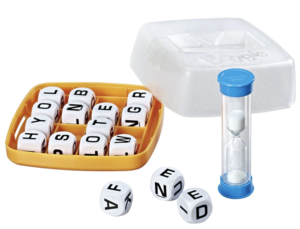 Age Range – 8+
Boggle is a repeatable word search game, where players must find words from connecting letters on a 4×4 grid2. The longer the word, the higher the score. Whoever has the highest score at the end of the game wins. This game is perfect for developing vocabulary in children.
Skills: 
4. Snakes and Ladders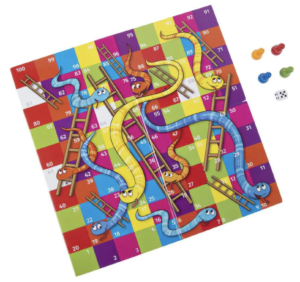 Age Range – 3+
Snakes and Ladders involves a board with 100 squares, labelled 1 to 100. Players take turns rolling the dice to move up the board. The objective of the game is to get to the top of the board (the square 100) first. Whoever does this first, wins. Players can use ladders to help them up the board quickly, but watch out if they land on a snake tile, they go back down the board2. 
Skills: 
Addition

Subtraction

Counting 

Strategy 
5. Settlers of Catan
Age Range – 10+
Settlers of Catan is aimed at upper primary-age students for its complexity. Players expand their settlements on a board with hexagonal tiles, using resource cards that they earn. The resource cards of sheep, brick, grain, wood, and ore help players build on their tiles. The way to win Settlers of Catan is to be the first player to win 10 points. Players can earn points by achieving certain tasks, such as having the longest road, or the most of any type of resource. Settlers of Catan develop patience in children, as a typical game can take up to two hours to play. 
Skills: 
Patience 

Strategy 

Resource management 

Trading and Negotiation 
6. Scrabble
Age Range – 5+ (Junior Version)
Scrabble is a board game where players use tiles from their hands to spell words on a board. Scrabble is a great way to develop a child's vocabulary and gets them to learn new words. It's also a great way for children to develop strategy, as in when to use their triple word scores effectively. Try the Junior Version for younger children3.
Skills:
Spelling 

Vocabulary 

Strategy
7. Monopoly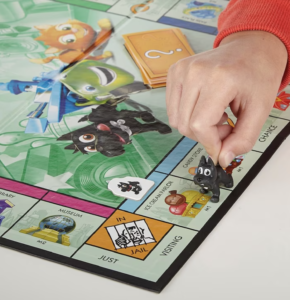 Age Range – 5+ (Junior Version)
Monopoly is a classic board game involving competition and economics. The objective of Monopoly is to move around the board in turn to collect as much property and money as you can. Watch out, because if a player lands on a board with a property, they lose money. The winner of the game is the last person standing. This is another board game where children develop financial skills, strategy and basic mathematical processes1.  Try the Junior Version for younger children.
Skills: 
Strategy 

Money Management 

Maths 

Trading 
8. Yahtzee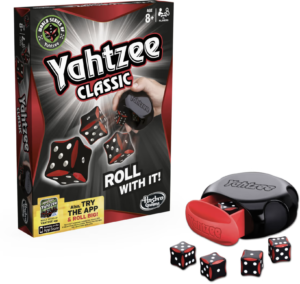 Age Range – 6+
Yahtzee is a maths game where players roll five dice to mark off their scoring sheet, but each type of roll can only be made once. This is a great game for developing strategy in younger children, as well as improving their math skills.
Skills: 
Addition

Subtraction

Multiplication 

Strategy 
9. Ticket to Ride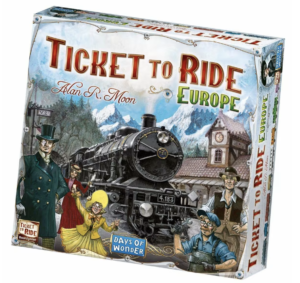 Age Range – 8+
Ticket to Ride is another strategy game aimed at middle/upper primary school students. Players must connect rail lines via Destination Cards they are dealt across the board in order to win. Here, strategy is needed to win, and Ticket to Ride helps develop excellent strategy skills in children. 
Skills: 
Critical Thinking 

Perception

Logistics 
10. The Game of Life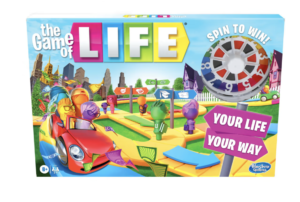 Age Range – 8+
The Game of Life involves a colourful board with branching paths, simulating the paths of life that people take. Not only is strategy needed to win, by earning the most money and points, but it's a great way for young children to start thinking about their own future too.
Skills: 
11. Scattergories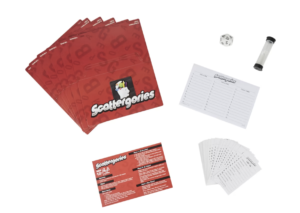 Age Range – 12+
Scattergories is a fantastic creative thinking game where players must answer certain categories with answers starting with the same letter. The winner is the player with the highest points. Scattergories is aimed at upper primary school students. Scattergories help children develop their reading, spelling, and vocabulary skills.
Skills: 
Spelling 

Vocabulary 

Creativity 

Critical Thinking 
12. Rummikub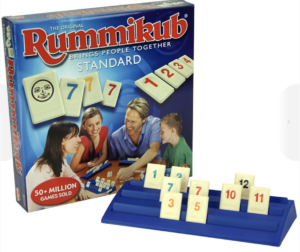 Age Range – 7+
Based on Rummy and Mahjong, Rummikub uses coloured numbered tiles. Players use these tiles to create either run of same-coloured numbers, or groups of the same number.
Skills:
Pattern recognition

Strategy

Basic maths operations.
13. Blokus
Age Range – 5+
Blokus is a tile-based game, where players must compete to control the largest amount of the board, a 20×20 grid4. Children who play Blokus develop abstract strategy skills, which in turn helps out with their critical thinking skills1.
Skills: 
Puzzles

Critical thinking 

Patterns 
14. Connect 4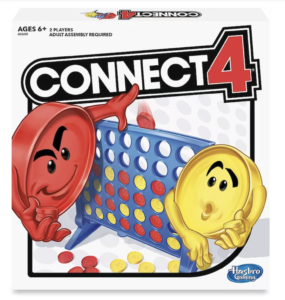 Age Range – 6+
Connect 4 is a two-player game. To win, players must match four of their coloured tokens in a row, column, or diagonal. For young players, this game helps develop their counting skills and also helps build a sense of strategy when they play the game3.
Skills:
Puzzles 

Critical thinking 

Counting 

Strategy 
15. Continent Race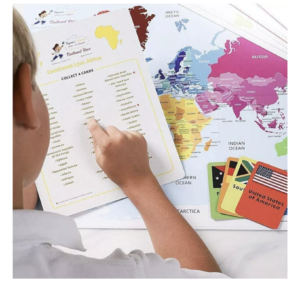 Age Range – 7+
Continent Race is a geography game perfect for primary school students. It features cards of national flags from across the world. To win, players must race to collect a certain amount of country cards from each continent5. Continent Race develops a sense of geography in young players, as they get to learn about other countries around the world for the first time.
Skills: 
Geography 

Strategy 

Problem-Solving 

Focused Plat 
Need Something More Educational Than Board Games? Try Tutoring!
While board games can be a fun way to learn and develop certain skills, they may not always be sufficient for your child to fully develop the skills needed for school, especially if they're struggling with certain subjects. That's when our tutoring services step in! 
Consider signing up for A Team's private tutoring services to further enhance your child's academic experience and reach their full potential. Contact us now to schedule your child's first session and start achieving your academic goals!