Are you sick of repeatedly telling your child to do their homework?
How to stop the never-ending homework battle
 Our Parent's Guide to Homework has practical strategies for inspiring your child to complete their homework and overcome the homework struggle.
Are you weary of the relentless homework struggle with your child? The never-ending quest to get them to sit down and complete their assignments can be draining, but you're not alone!
Our comprehensive Homework Guide is your ultimate resource to conquer the homework battle and empower your child to become an independent learner. We understand the daily challenges parents face, and we're here to provide you with expert guidance and practical tips to transform homework time into a productive, stress-free experience. Our FREE Guide is split into three helpful sections:
Section 1: Crafting the Ideal Homework Space & Routine
Start by establishing an environment that promotes effective concentration and a consistent routine that cultivates positive habits in your child. Say goodbye to chaotic homework sessions and hello to organised, focused work.
Section 2: Methods for Motivating Your Child
Discover a range of proven methods and approaches that inspire your child's intrinsic motivation. Turn the "I have to" into "I want to" and watch their enthusiasm for learning soar.
Section 3: Effective Homework Strategies
Explore strategies that will help your child work more efficiently and productively. Say farewell to homework-related stress and hello to newfound confidence in tackling assignments.
Don't let homework time be a battlefield any longer. Download our guide now and embark on a journey to conquer the homework struggle, witness your child thrive academically, and make learning an enjoyable experience!
GET OUR FREE GUIDE TO OVERCOMING THE HOMEWORK BATTLE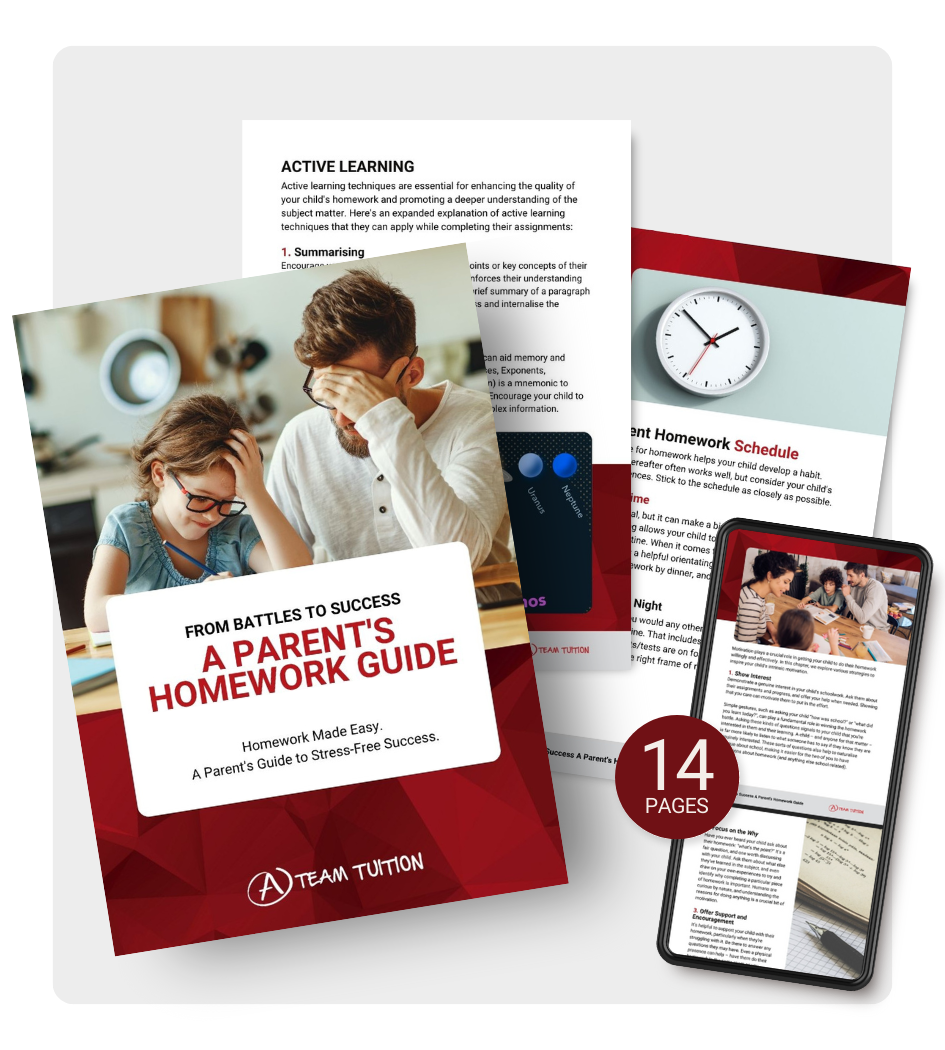 From Battles to Success: Parent's Homework Guide
IN THIS FREE GUIDE YOU WILL LEARN:
How to Overcome the Homework Battle
Strategies to Improve Your Child's Relationship With School Work
Exactly What You Need To Change in Your Child's Current Routine
Ways To Encourage, Motivate & Reward Your Child For The Completion of Homework